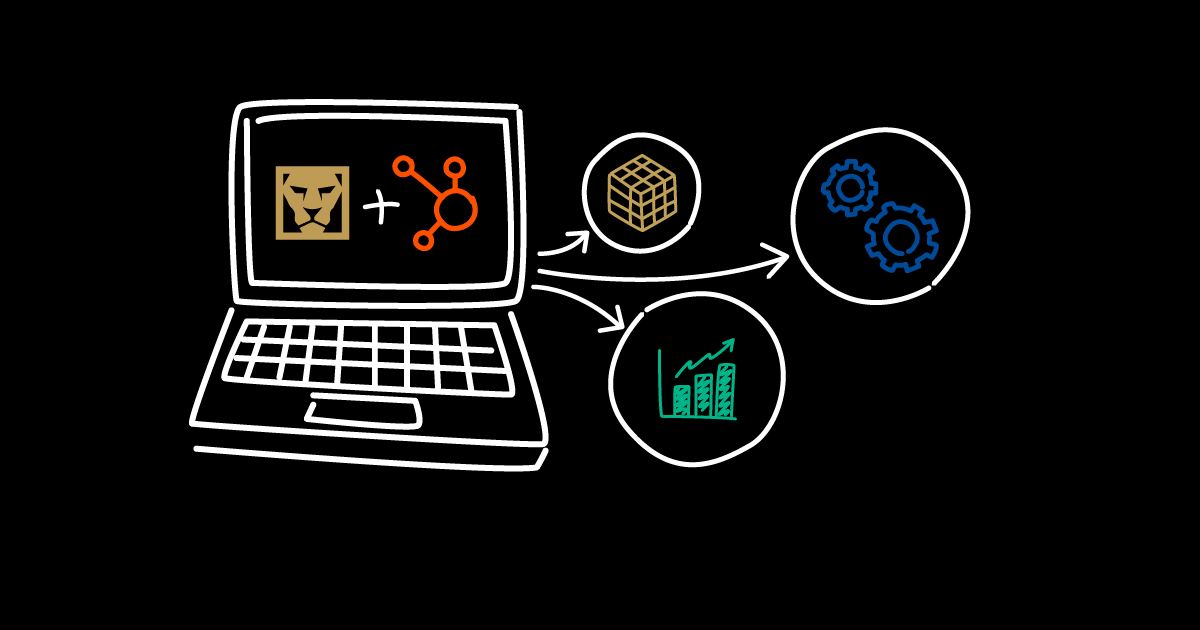 Why we partner with HubSpot: Driving growth and transforming business operations
Many businesses face challenges when it comes to marketing, sales and customer relationship management. We recognised the need for a robust and integrated solution to optimise business operations, fuel growth and deliver an exceptional customer experience. After extensive research and evaluation, we decided that partnering with HubSpot would help our clients grow, scale and automate their processes in the most efficient way possible.
In this blog post, we will delve into the reasons why we chose to partner with HubSpot and the transformative impact it has had on our business and for our clients.
Our partnership with HubSpot, a leader of inbound marketing, sales and customer service software has allowed us to expand and innovate new growth opportunities for our clients. We focus on improving efficiency and streamlining operations with automation and we were looking for a partnership that would support this. Our partnership with HubSpot enables us to fast track our solutions and provide a seamless experience when managing data, technology, tools and optimising business processes.
Comprehensive all-in-one platform
One of the primary reasons we chose to partner with HubSpot is its comprehensive all-in-one platform. With HubSpot, we have access to a suite of powerful tools that seamlessly integrate marketing, sales and customer service functions. This unified platform allows us to streamline our processes, improve efficiency and gain holistic insights into our customer journey. We were looking to align our departments for better communication internally and improve data sharing across teams for better insights.
Seamless CRM integration:
Utilising HubSpot's CRM as our source of truth enabled us to have a reliable data source to make informed business decisions. This gave us the foundation to build our tech stack and grow effectively as we made progress.

This integration provides us with a centralised hub for managing our customer relationships, tracking interactions and gaining a comprehensive understanding of our customers needs and preferences. HubSpot's CRM empowers our sales team with the tools they need to close deals more efficiently.

With HubSpot at the centre, our tech stack is designed to optimise effective processes and helps us streamline our business operations.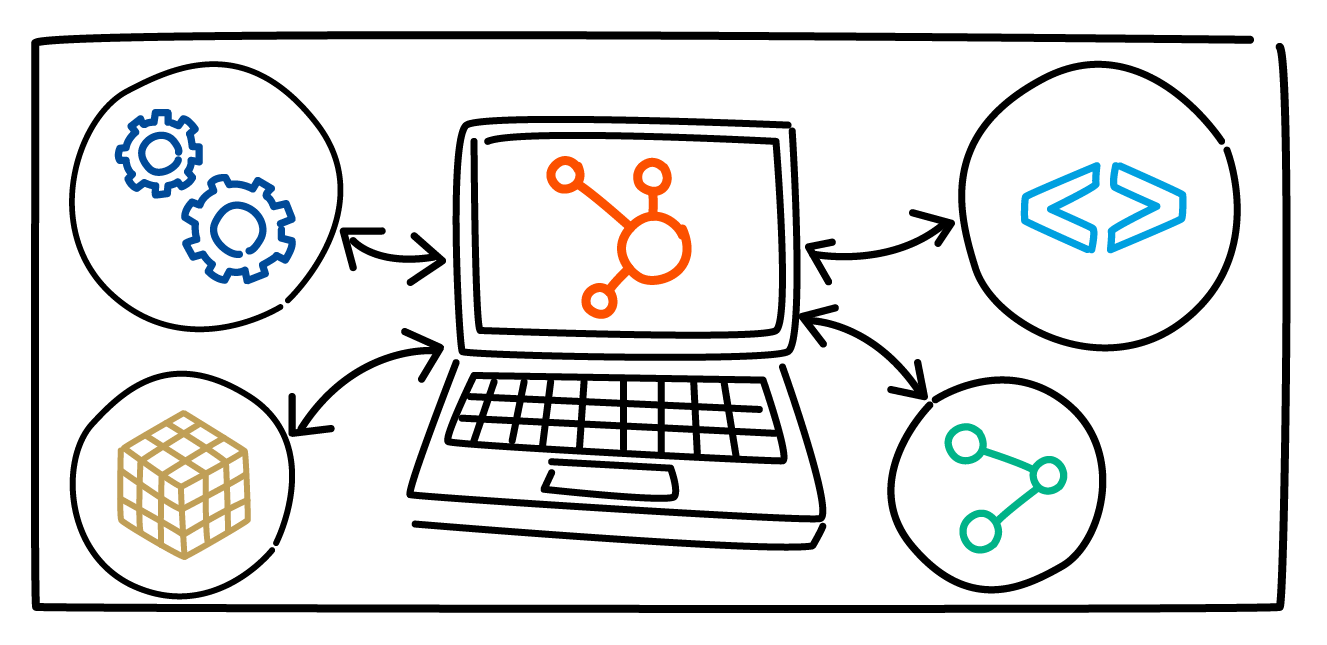 Inbound methodology and expertise
HubSpot is renowned for its inbound methodology. A customer-centric approach that focuses on attracting, engaging and delighting prospects and customers. By partnering with HubSpot, we gain access to their extensive expertise and resources on inbound marketing, customer success and operational alignment. HubSpot's tools enable us to create compelling content, nurture leads and build strong customer relationships.
Customer success is a huge focus for any growing business and it's important to ensure the customer journey is streamlined. Minimising friction and increasing the forces that help customers reach their goals as fast as possible is key for creating customer success. This strategy improves profitability and minimises unnecessary costs helping to make your business more efficient. HubSpot makes it easier to identify these friction points through their sales pipelines, alignment of data between departments and customisable dashboards.
Image source: hubspot.com
Automated sales pipelines

We optimise our sales pipelines through automation. We create automated notifications internally to help maintain progress and manage daily tasks. This saves us time on repetitive processes and helps us fast track the experience for both our team and our clients.
Connecting each of our departments data through HubSpot means we are always on the same page, knowing we have accurate information on various projects and up to date client communications.
Robust analytics and reporting
Effective decision making requires accurate and actionable data. HubSpot's advanced analytics and reporting capabilities provide valuable insights into the performance of our sales and marketing efforts. With real-time data on key metrics, we can identify trends, improve performance, track campaign effectiveness and make data-driven decisions to optimise our strategies. Collecting data from sales, marketing and service teams enables you to have a better understanding of your business overall and helps you monitor progress.
Our streamlined approach helps us to minimise human error with data entry. We also maintain our data to ensure it stays up to date and accurate.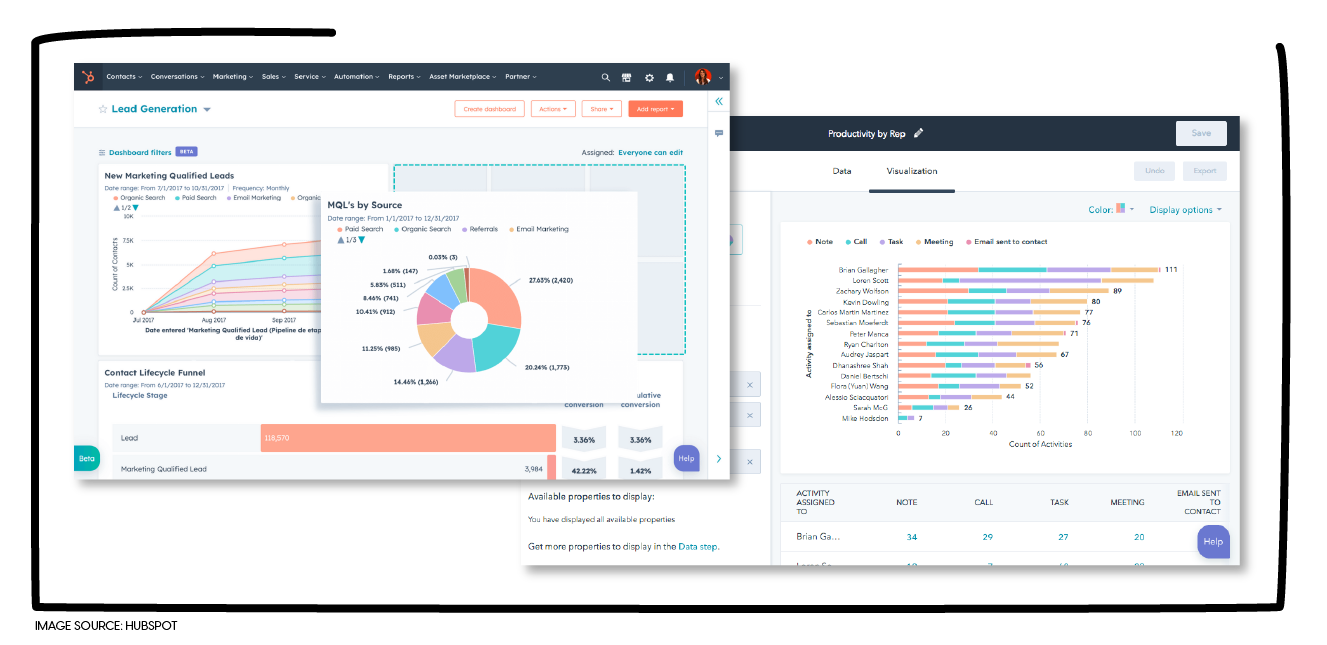 Image source: https://www.hubspot.com/products/reporting-dashboards
Automation and workflows:
HubSpot's automation features have been instrumental in streamlining our operations and driving efficiency. From email marketing automation to lead nurturing workflows, HubSpot allows us to automate repetitive tasks, nurture leads at scale and deliver personalised experiences throughout the customer journey. We build custom workflows to optimise our operations and create a seamless experience both internally and externally. This automation frees up our team's time, enabling them to focus on high-value activities and fosters stronger customer relationships.

We find our clients get high value from building automated processes that streamline their operations. We have built custom automation solutions for clients that propel revenue growth, increase profitability, minimise friction and improve efficiency. Helping to save time on manual tasks and using automated reminders to minimise workloads and manage a high volume of leads.
Combining HubSpot's software with custom automated strategies enables powerful growth for marketing, sales and service teams.
3 quick and easy examples
of automations you can use
in your business:
Scenario 1:


A new lead completes a contact us form submission and you want to assign this contact to a specific person in your team.
Automation Workflow Steps:

How this automation works:
The idea behind this workflow is to update properties to show that a contact has expressed interest. By adding "rotating the record to owner" you can segment your contacts and view them through filters, making it easier for you to prioritise your tasks.
How this automation benefits you:
Automating this process frees up your time and improves the accuracy of assigning contacts to your team by reducing human error and overall increases the efficiency of your operations, which ultimately helps reduce costs and increases profitability.
Scenario 2:


You want to be reminded to send a customer satisfaction survey to a customer who is at the end of their lifecycle and gather feedback.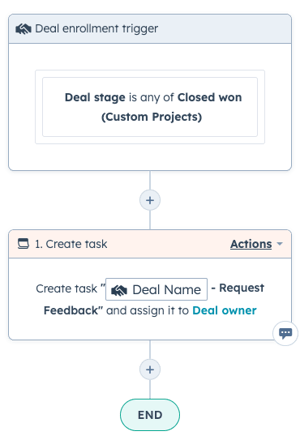 How this automation works:
The idea behind this workflow is to create a task that reminds you to send a customer satisfaction survey. This helps manage your tasks as you can be notified of the best time to take action, rather than needing to constantly check where your customers are at in their life cycle. Currently, you are unable to automate sending the survey directly through automated workflows, although some rules can be set on the survey itself.
How this automation benefits you:
Automating this process helps to notify you of the best time to gather feedback from your customers. Helping you send the right message, at the right time, to the right person. You can review the next steps by adding 'if, then' branches to automate what happens next depending on the customers score.



Scenario 3:


You want to nurture leads over a series of emails who have shown interest by submitting a form and then notify sales when they become a qualified lead.
Automation Workflow Steps:
Send educational emails: Add a series of educational emails that provide valuable information related to the eBook topic. These emails should be spaced out over time to avoid overwhelming the leads.
Decision branches: Use decision branches to tailor the workflow based on lead behaviour.
Notify sales team: If a lead interacts positively with your emails, trigger an automated notification to the sales team, indicating that the lead is now ready for a sales conversation.

How this automation works:
This lead nurturing workflow helps you send a series of emails to a lead until they become qualified for sales or make a purchase. By sending emails automatically you can ensure the right customers receive the right information, at the right time. This workflow automates your lead nurturing strategies to save you time and streamline the customer experience. The key is to identify repetitive tasks that can be automated and to continuously monitor and refine your workflows for better results.
How this automation benefits you:
Automating the process of engaging leads who have shown interest in a specific product or service, ensures a consistent and personalised communication strategy. The delay between emails prevents overwhelming leads, while the educational content establishes your expertise and builds trust. This automation helps you qualify sales leads automatically.
Continuous innovation and support:
HubSpot is known for its commitment to continuous innovation and improvement. We benefit from regular product updates, new features and ongoing support. The HubSpot community provides us with a wealth of resources, including training, certifications and a network of like-minded professionals. This support ecosystem ensures that we stay at the forefront of industry trends and best practices. This compliments our mission to help businesses achieve more efficient and effective business operations through strategy and innovative technology.

With our own extensive knowledge in technology and strategic business growth we are able to align our expertise with other industry leaders, making a powerful impact for those looking to improve their operations.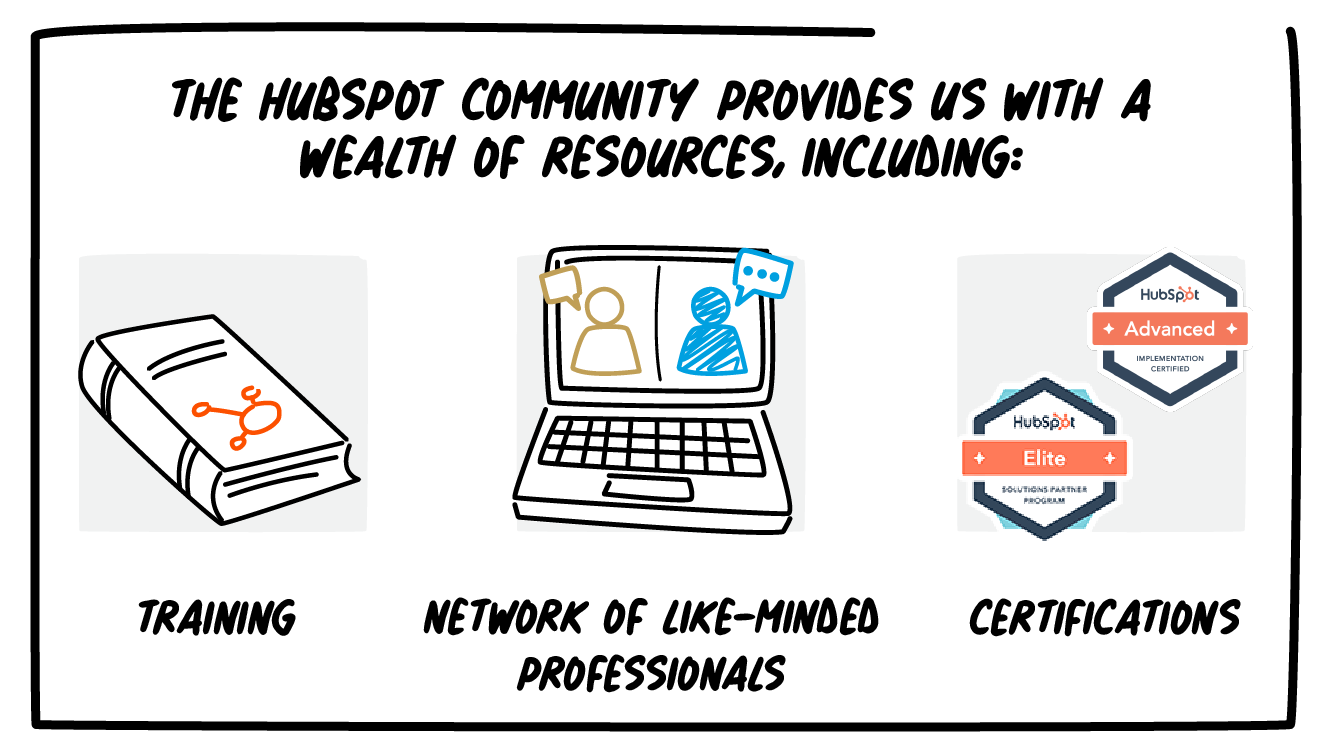 Our partnership with HubSpot
Our decision to partner with HubSpot has been transformational for our business and our clients. Through our combined expertise we can deliver unique and powerful solutions for improving business performance, efficiency and profitability. Our purpose has aligned to help clients 'grow better' with our focus on utilising technology and business strategy for building effective business operations. Our mission to deliver impactful growth solutions for our clients has been highly successful through our partnership with HubSpot and its ability to integrate with other technology solutions.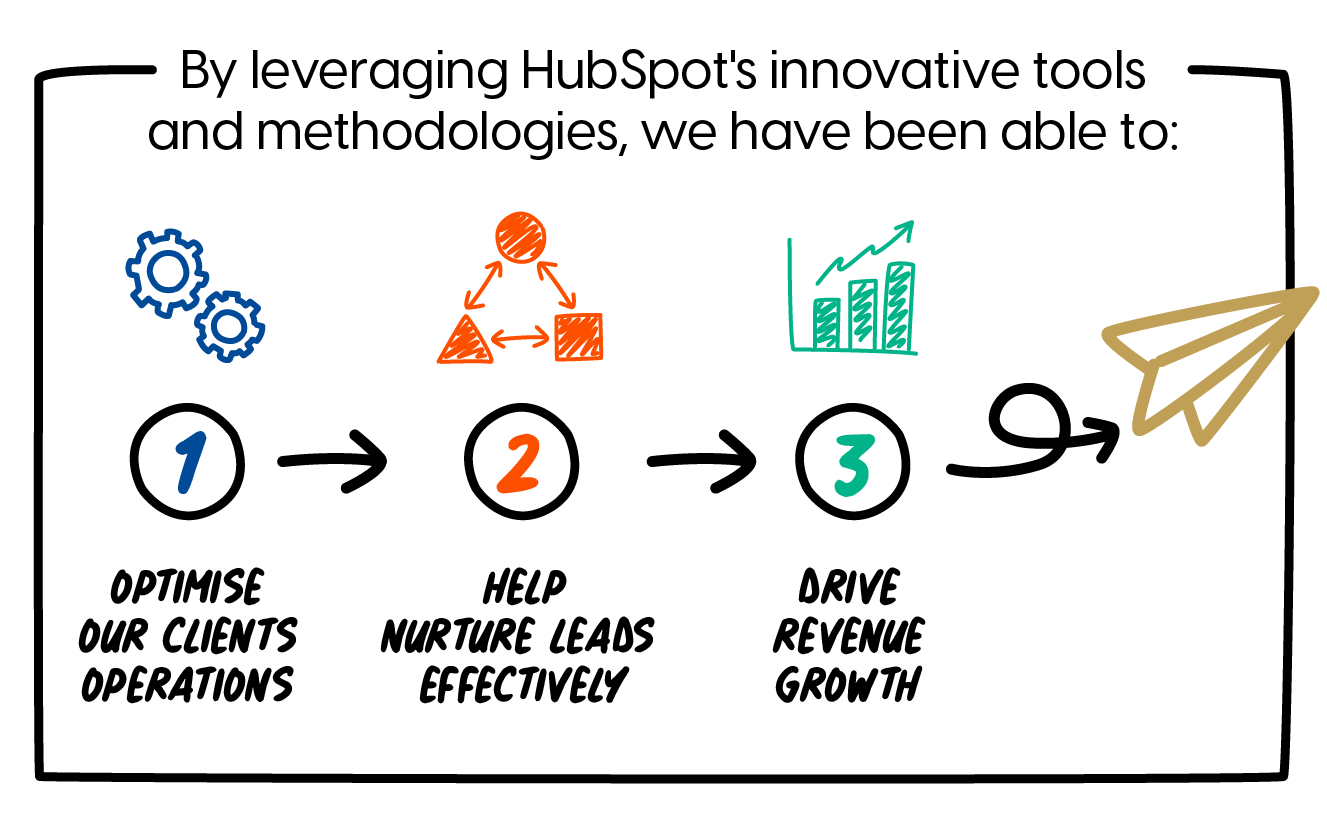 The comprehensive platform, inbound expertise, robust analytics, automation capabilities, CRM integration and ongoing support have propelled our growth and elevated our customer experience. By leveraging HubSpot's innovative tools and methodologies, we have been able to optimise our clients operations, help nurture leads effectively and drive revenue growth. Our team builds custom solutions with integrations, automations, business strategy and data management to build upon HubSpot's software and create a powerful tech stack.
We are excited about the future possibilities that this partnership holds and look forward to continued success together.