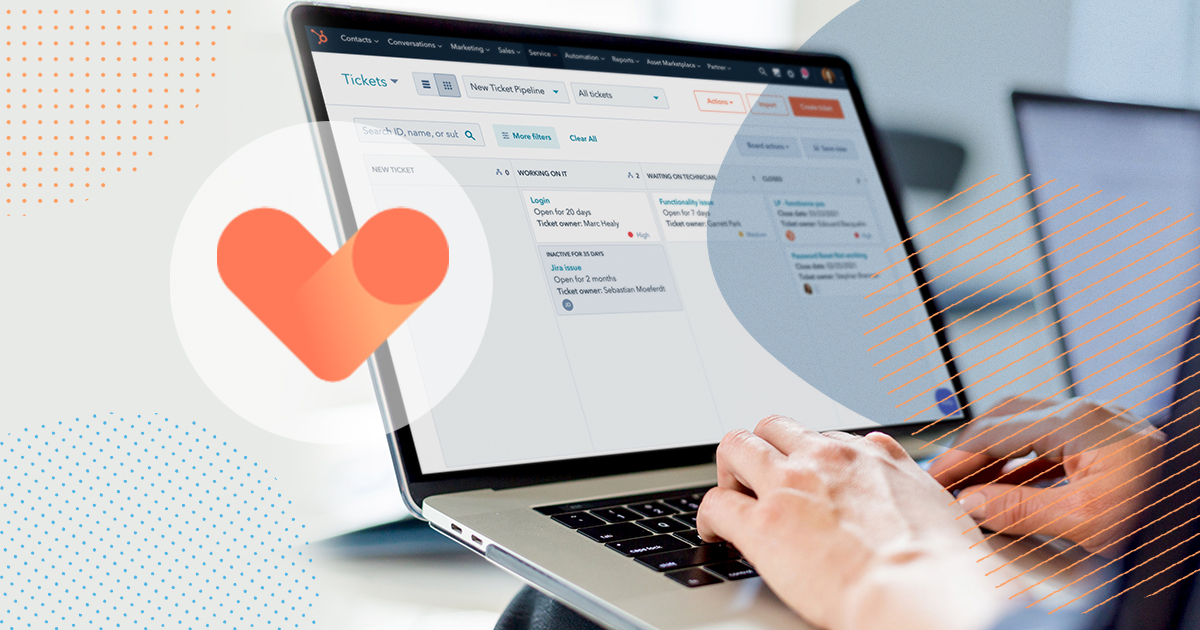 10 solutions to overcome your challenges in customer service
With more people relying on technology, customer support has to be responsive and offer quick solutions to customer problems. Learn how to set yourself up for success with Hubspot's Service Hub software and overcome your challenges in customer service with these 10 solutions.
Key Topics in this article:
(Click on the list to skip to a key area.)
Solution 1:
Fast-track the customer service experience using Hubspot's service desk and ticket inbox.
Solution 2:
Speed up customer service response times with ticket pipelines and automation.
Solution 3:
Communicate with customers effectively using a customer portal.
Solution 4:
Understand your customer's needs with customer feedback.
Solution 5:
Solve customer problems at scale by creating a knowledge base.
Solution 6:
Support your customers 24/7 using chatbots.
Solution 7:
Power proactive customer service management with automation.
Solution 8:
Manage personalised experiences with Omni-channel communication.
Solution 9:
Improve customer service experiences and replicate successful interactions with call monitoring, playbooks and transcripts.
Solution 10:
Unify your systems: connect customer service to other departments.
---
Source: Hubspot
Solution 1:
Fast-track the customer service experience.
HubSpot's

Service Desk and Ticket Inbox
Implement a service desk and ticket inbox to manage, organise and connect your entire service and support teams directly to your customers. This helps deliver clear communication from one centralised location.
Remove siloes and disjointed processes from your operations to improve efficiency and build a seamless experience for your customers. Using a service desk to manage customer service processes helps fast-track daily tasks. Saving time that's usually spent on managing complex systems. It empowers you to focus on delivering high-quality solutions for your customer and ultimately fast-tracks the customer experience.
Hubspot's service desk and ticket inbox enable you to:
Keep all customer requests and data in one easily accessible location.
Prioritise requests and tickets by urgency.
Organise and manage tickets with automation.
Increase efficiency by removing time-consuming processes.
Evaluate response times with key metrics and monitor the customer experience.
Service Hub enables you to have effective communication strategies by offering Omni-channel communication tools, channel switching, and a unique customer portal.
---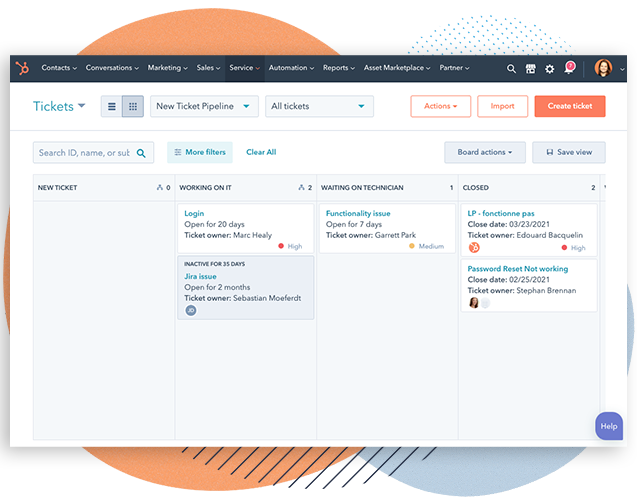 Source: HubSpot
Solution 2:


Speed up customer service response times.

Ticket Pipelines and automation.

Service Hubs ticket pipelines show clear documentation of received requests. This enables you to see the ticket status and level of progress for completing the ticket. Having a ticket pipeline makes managing customer tickets more efficient and speeds up your response times.

Ticket allocation ensures each issue is resolved by the most suitable employee. Customers are more likely to find answers at the first point of contact and it avoids customers from having to repeat themselves to multiple departments.

Efficient processes enhance your ability to solve problems faster, leading to higher customer satisfaction rates. Having faster response times leads to fewer customer complaints which means you spend less time mending bad customer experiences.

Ticket automation increases efficiency even further.

With Hubspot's Service Hub software you can create custom workflows to suit your processes and streamline manual tasks. Sending notifications to customers, other employees and updating ticket status' can become automated, speeding up your entire customer service experience.

New feature: Service Level Agreements (SLA)

SLAs can be used to set KPIs and company-wide policies for what your company expects as response times. The two SLAs that are currently available are called time to first reply and time to close.

This feature helps monitor the performance of service reps to ensure your company's service is consistent and reaches customer expectations.
---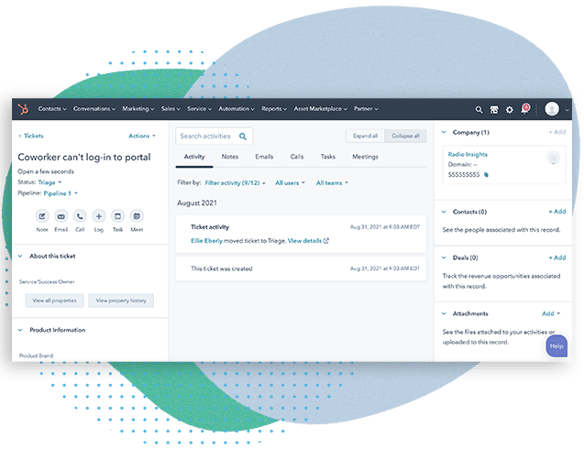 Source: Hubspot
Solution 3:


Communicate with customers on a variety of platforms from one location.
HubSpot's Customer Portal
Implementing a customer portal allows each customer that submits a ticket to see how, when and where the ticket is being processed. This relieves any previous tensions that were caused by poor communication. All previous ticket information is recorded and easily viewable in threads. Helping to resolve issues faster and deliver solutions that are most relevant.
This saves time and removes duplicated customer issues from occurring across communication channels. Helping to prevent customers from repeating themselves and improving scalability. This also creates a personalised experience that can be tailored to your customers and suit your unique business needs.
Channel switching in Service Hub's Inbox (Connected to CRM)
Channel switching saves a lot of time and enhances efficiency within Service Hub's help desk. It enables you to reply to customers and switch between varying channels from one location. Supporting customers the way that suits them best.
Customers can take control of their support tickets.
Customisable themes for your business.
Builds trust with customers.
Clear communication, with the ability to clearly track progress.
---

Solution 4:
Understand your customer's needs.
Customer Feedback with Service Hub's Custom Surveys
Creating tailored customer surveys to gather feedback is a great way to learn what your customers want and need most. Hearing directly from the source enables you to build a stronger understanding of your customers and base your decisions on accurate information.

Service Hub includes customer feedback software that provides a number of surveys you can customise and implement from your CRM. These surveys give you the ability to monitor net promoter scores (NPS), Customer effort scores (CES) and customer satisfaction (CSAT).
HubSpot's surveys can also be implemented to chatbots to receive immediate feedback on the customer's experience. Surveys can be valuable for providing new insights and opportunities for your team to utilise. Helping you stay ahead of market trends and beat your competition.
Implement multiple surveys throughout your customer experience to gain specific information in the customer journey:
Survey via emails
Chatbots
Pop-ups

Thank you pages

---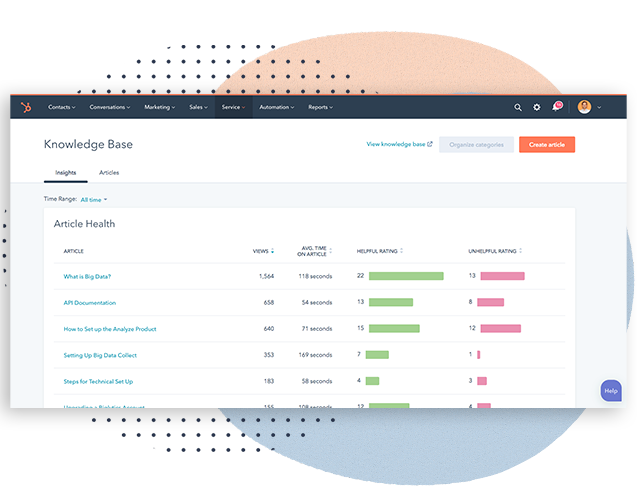 Source:
HubSpot
Solution 5:


Solve customer problems at scale
HubSpot's Knowledge base
A Knowledge base is a type of self-service that enables your customers to find solutions to their problems on their own. Customers can access this knowledge base when they are looking to solve a problem relating to your product or service. A knowledge base is used as a resource of multiple self-help articles, videos or online training that assists customers proactively.

Service Hub provides the tools for your team to build a knowledge base. You can track the impact your articles have on your customers with metrics. This helps with measuring the performance of your customer service experience over time.
A knowledge base can also act as a resource for your team internally. When employees need to find a solution they can utilise the knowledge base. This adds an additional tool for your employees to use when helping customers and themselves. If you are using Hubspot's free CRM it will automatically record which articles your customers have viewed. This saves you from forwarding content they have already seen.
---


Solution 6:


Support your customers 24/7
Chatbots help customers resolve issues anytime, anywhere.
Depending on the individual use case for a chatbot, self-service can be very effective for speeding up the solutions process. Hubspot's chatbot builder is a helpful tool for fast-tracking your customer's access to your knowledge base, navigating pages on your site or booking a meeting.
Hubspot's chatbot feature focuses on assisting customers with answers to commonly asked questions and directing them to a solution. This works well when you have both a knowledge base and chatbot set up.
Chatbots help scale your customer service operations as it reduces the number of tickets that are submitted to your service team and each problem is solved automatically. This ultimately saves time spent solving customer problems and minimises the need for two-way communication with customers.
---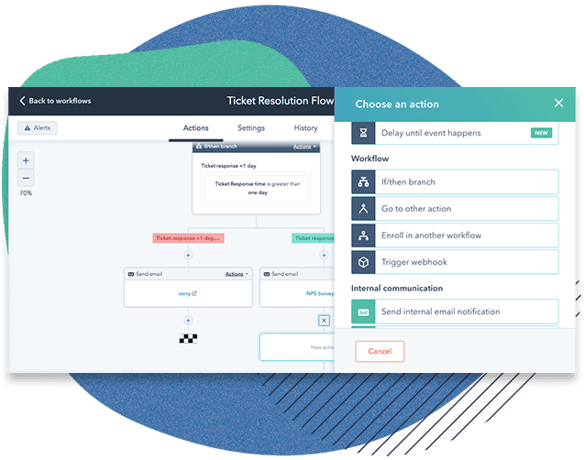 Source: HubSpot
Solution 7:
Power proactive customer service management with automation
Hubspot's automation tools help drive proactive customer service solutions.
Create custom automation strategies to power your internal processes. Use automation tools to set reminders, nurture customers and complete tasks to streamline proactive customer service management.
HubSpot's automation tools help keep data integrity. Automation minimises the number of missed opportunities and mistakes that are usually caused by human error. Automation can be used to fast-track processes in customer service with either custom or standard automated workflows.
Examples of workflows you can create:
Automated emails
Automated surveys, 'send a survey to XYZ after' or 'reminder follow up with XYZ based on their survey scores'
Ticket allocation 'send customers to XYZ department when'
Sort tickets based on priority
Nurturing strategies
Automatic team handoffs - trigger notifications and set reminders to ensure smooth transitions between departments.
Automation helps to drive efficiency with internal processes, and using personalised automation can help to nurture customers at scale.
---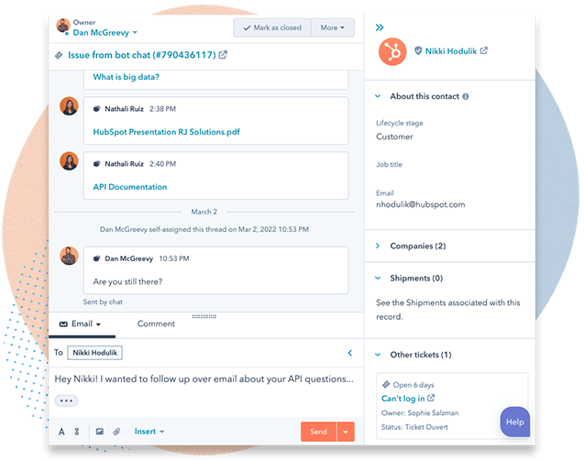 Source: HubSpot
Solution 8:


Manage personalised experiences with Omni-channel communication
Create personalised communication for your customers.
An omni-channel approach works in unison with personalisation. It enables you to tailor experiences on varying platforms and alter messaging accordingly. Understanding your customers and delivering unique experiences to them will drive consumer engagement and retention.
Hubspot offers Omni-channel communication tools in Service Hub including:
Facebook messenger
Emails
Chatbots
The channel switching feature enables you to seamlessly communicate on a variety of channels from one platform. Making it easier for you to deliver personalised experiences from one location.
Although, you still need a deep understanding of your customers and accurate information to make decisions. A CRM helps align your data, interact with customers and build a powerful customer experience.
Data management is also important for scaling businesses that want to build personalised experiences. You need data to be accurate, measurable and organised. Having unified, structured and reliable data is key for making strategic business decisions. And, it takes ongoing data management to have consistent, reliable data.
Service Hub's data seamlessly integrates with Hubspot's CRM and other platforms, helping to build a well-rounded customer experience across all departments.
---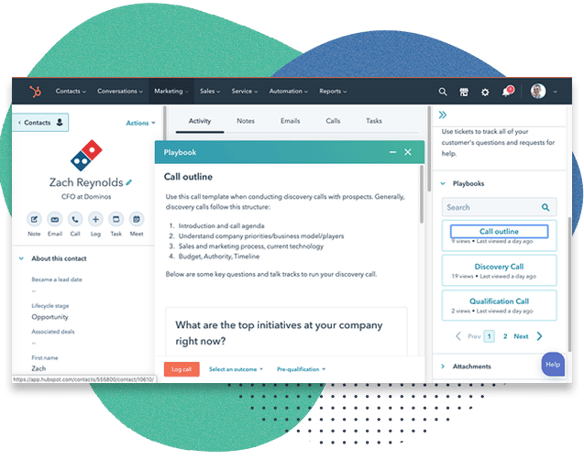 Source: Hubspot
Solution 9:


Improve customer service experiences and replicate successful interactions
Use Hubspot's call monitoring feature, transcripts and playbooks to help keep consistency across departments.
Managing customer service experiences can be challenging when you don't have the right tools in place. Having tools that help unify your systems will help keep consistency in separate departments. Hubspot's user-friendly and cloud-based platforms help streamline these processes.
Hubspot's call tracking feature allows you to prioritise your calls, record conversations and provides call transcripts for future use. This is great for coaching new employees or monitoring progress.
Playbooks can be created to help customer service teams provide solutions to customers.
Playbooks help you:
Prepare for a call
Outline what to say
Outline steps that need to be taken
Help overcome objections
Give suggestions of rebuttals
This keeps processes consistent and teaches new employees how to solve problems on their own. Overall, helping to monitor successful interactions and improve the customer experience.
---
Solution 10:
Unify your systems - connect service to other departments
Integrate Service Hub into your existing HubSpot Software or CRM platform.
If you already use a CRM platform that manages your customer information, implementing a service platform that integrates with your current systems will amplify the efficiency of your processes and ensure you have a unified approach.
Clear documentation, removing silos and automating your processes enables faster responses to customer complaints, issues and requests. HubSpot's Service Hub provides a number of tools that enhances your team's capability and improves your customer experience.
Service Hub easily integrates with HubSpot's CRM and other HubSpot software, making it a valuable addition to your tech stack. You can still integrate Service Hub into your tech stack if you already use another CRM.
Depending on the system, you can have one-way or two-way integrations:

For example:
Hubspot -> Other CRM
Other CRM -> HubSpot
HubSpot <-> Other CRM
Revenue Operations
If your operational processes need more attention you may want to implement a revenue operations strategy (Revops).
Consider running an audit on your operations to find friction points and new opportunities for increasing efficiency. Revops aligns your internal processes, helps optimise your customer success strategy and assists in reaching your strategic business objectives.
Having an external source look inwards can help shed light on new opportunities - which could lead to potential efficiency gains that your team may have missed due to their proximity to the issues involved.
Overcoming The Challenges of

Customer

Service
Customer service, done well, goes a long way toward building your brand's reputation, retaining customers and maintaining a delightful experience.
Without having efficient processes for answering customer requests and complaints, you won't be able to keep up with the growing demands of your business. Customer service solves problems for consumers constantly.
It is important to have the right tools and systems in place to support service teams and increase scalability.