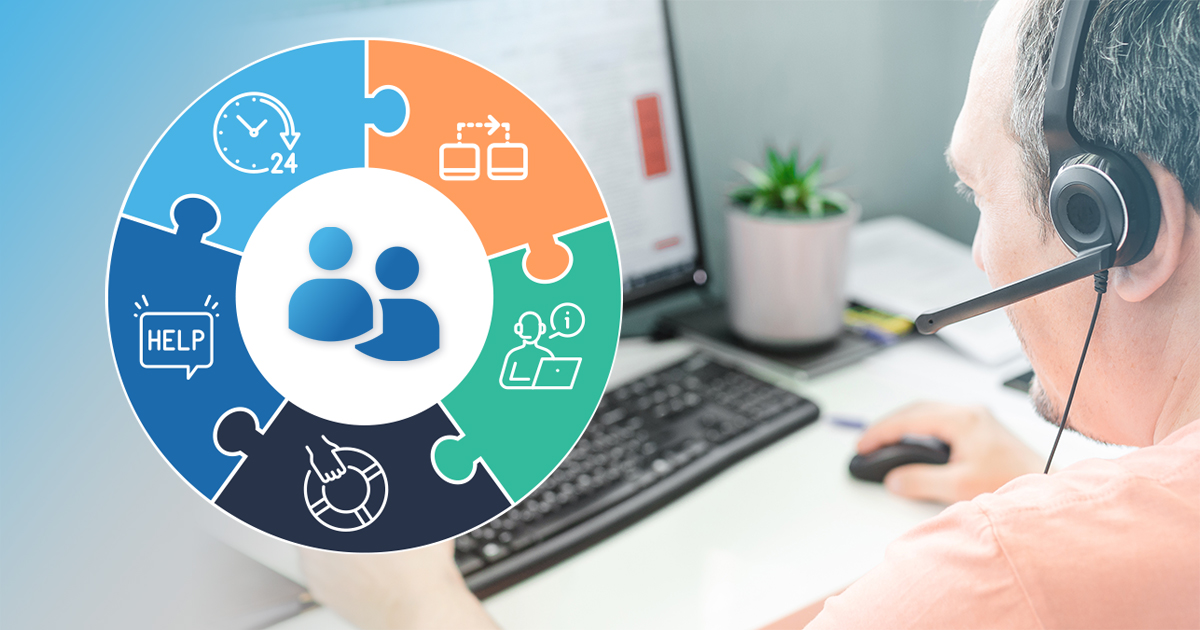 Top 10 challenges customer service teams are facing in 2022
It's a customer-first digital world and customer service teams are facing an uphill battle. Customer support teams need tools and technology to deliver excellent customer support at scale. Find out which 10 challenges are impacting customer service and how you can overcome them.
Key Topics in this article:
(Click on the list to skip to a key area.)
Challenge 1:
Using time-consuming methods for documenting customer issues and requests (Excel spreadsheets)
Challenge 2:
Slow Response Times.

Challenge 3:
Customers hate repeating their issue requests.

Challenge 4:
Difficulty understanding customer needs.

Challenge 5:
Providing customers with fast and easy self-service options.

Challenge 6:
Supporting customers 24/7.

Challenge 7:
Implementing proactive customer service management at scale.

Challenge 8:
Managing personalised experiences.

Challenge 9:
Consistency across systems and departments.

Challenge 10:
Siloed Operations: Connecting service with other departments.

Summary:
Overcoming the challenges of customer service.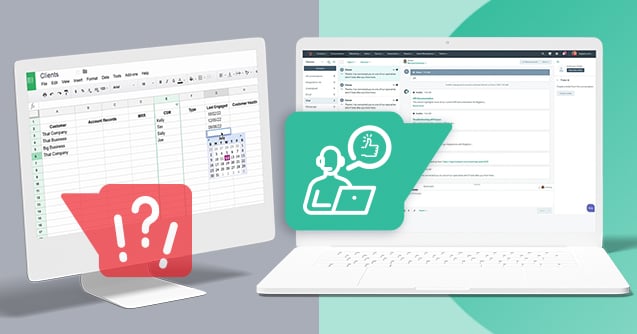 ..Challenge 1:
Using time-consuming methods for documenting customer issues.
Eg. Using Excel spreadsheets or an email inbox.
It is common to use Excel spreadsheets or a single email address to document, manage and organise customer requests. These tools can be used for all customer interactions and communication. However, it leaves you to manage a heavy workload and a complicated system.
These time-consuming processes slow down productivity.
Your focus should be on serving customers, not sorting through customer requests and organising data.
Inefficient processes limit profitably and contribute to revenue loss. Excel or email-based customer service management systems are difficult to manage at scale. Customer requests become lost and important matters aren't dealt with quickly.
Customers who experience long wait times are usually left dissatisfied. Offering solutions to customers as fast as possible is key to retaining customer satisfaction and you need your internal systems to support you.
..

The

Solution:
Fast-track your ability to solve problems for customers.
Having smooth processes will help ease the stress of completing daily tasks. Implement tools that manage customer requests and automate time-consuming tasks. Implementing a help desk and a service inbox can help manage customer requests, organise data and streamline your processes. Hubspot's help desk and ticket inbox is a great tool for streamlining these time-consuming processes.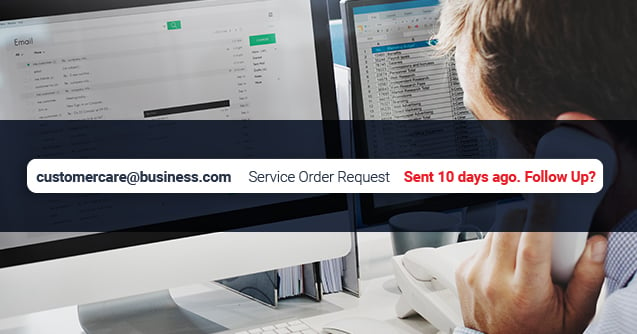 ..Challenge 2:
Slow Response Times.
Customers want issues, requests and complaints addressed as quickly as possible. Fast response times play a vital role in building your brand's reputation, retaining customers and propelling referrals for future sales - yet it is challenging for companies to deliver fast response times.
In this survey, 46% of customers expect responses to be faster than 4 hours, whilst 12% expect a response in 15 minutes or less.
How long do companies actually take to give a response?
On average, around 12 hours - with the slowest response being 8 days or not at all. 62% of companies say they don't respond to customer emails according to superoffice research.
Customers become frequently frustrated with unresolved issues, requests and enquiries being left unanswered. Poor communication and internal processes are often the cause of slow response times. Keeping your customers frequently up to date can be a common challenge once the volume of required tasks grows exponentially.
Having the right tools in place to manage customer relationships can help you stay on top of tasks and monitor progress.
..

The Solution:
Focus your time on solving customer problems instead of managing complex processes.
If you want to speed up your response times, assess your internal processes and how you communicate to your customers. Cut out unnecessary steps and simplify manual tasks. Having an organised system will go a long way in improving internal efficiency and increasing the speed of response times.
Ticket pipelines in Hubspot's Service Hub software allow you to monitor the progress of customer requests and move customers through stages of completion. You can then automate manual tasks, (set up email triggers to notify customers of progress) which speeds up your response times and removes the stress of completing daily tasks.
..Challenge 3:
Customers hate repeating their issue requests.
Research shows that 75% of consumers hate repeating themselves
when they have an issue with a brand whether it's in-store,
online or over the phone.
Customers don't want to be bounced between departments. Provide simple and fast solutions to help maintain customer satisfaction. 72% of customers say that explaining their problems to multiple people is poor customer service.
Separately managing all customer service platforms leads to missed opportunities.
Over 70% of consumers believe that companies should collaborate on their behalf so they don't have to repeat information to different representatives. Sharing data between departments is vital to creating a seamless customer experience. It's highly important for maintaining customer relationships and keeping up with consumer expectations.
Customers prefer to reach out to businesses through many different channels (social media, emails, support tickets, chatbots) yet keeping track of all of the various platforms becomes challenging when your systems are not aligned. Omni-channel service is a popular strategy for tailoring to individual customer needs and being readily available online.
..

Solution:
Unify your systems to remove duplicated customer requests and improve communication between customers and service staff.
A customer portal provides one location for customers to submit support tickets and communicate clearly with customer service reps. It contributes to customers being able to take control of solving their issues and see the progress being made by your team. Customers can still contact you on their preferred channels if they don't want to submit support tickets.
In the customer portal, you have the ability to switch between platform channels and speak to your customers from one location with just a click of a button. Unifying your systems and monitoring your platforms from one location saves time and minimises duplicated requests.
Hubspot's customer portal and channel switching tools empower you to deliver fast and reliable customer service, helping to build trust with consumers and build a frictionless customer service experience.
..Challenge 4:
Difficulty understanding customer needs.
Some businesses have trouble understanding their customers' needs and this can lead to poor decision-making. Understanding your customers can be a difficult task without the right tools, data and strategy.
Without accurate data, you might make poor business decisions as you are relying on inaccurate information. Gathering information to improve your services and tailor your customer experiences is one of the best ways to improve your customer service. By interviewing, surveying and monitoring consumer behaviour, you can gain insights and better understand their needs.
Self-conducted research methods enable you to gather tailored information that is directly related to your business. Helping you improve your services, products and experiences.
Many businesses fail to conduct their own research, leaving them to guess what their customers want and need. Failing to ask for feedback at the right time can lead to missed opportunities.
53% of shoppers believe their feedback doesn't go to anyone who can actually act on it.
Having the right strategy in place and acting on the feedback you receive is vital to retaining customer satisfaction. If your customers can see the feedback they give is implemented and considered, they will be more likely to buy again and remain loyal to a brand they trust.
..

Solution:
Gather feedback from your consumers to deepen your
customer relationships.
First-hand feedback is a great way to better understand your customers. Gather insights by creating surveys for customers to complete whilst they experience your customer service or products. Implementing surveys at the right time can lead to specific insights and show where improvements need to be made.
..

Challenge 5:
Providing customers with fast and easy self-service options.
69% of consumers first try to resolve their issues on their own, but less than one-third of companies offer self-service options such as a knowledge base.
Not all problems require a customer service rep to solve them. Many solutions can be provided through customer self-service. Having resources for your customers to access when it suits them is a powerful way to scale your customer service offerings.
Self-service also minimises the number of times service reps have to repeat themselves. It can be frustrating to have to answer the same question and solve the same problems all the time. Not only is it inefficient, but your customers also don't want to spend unnecessary amounts of time communicating back and forth when there could have been an easier solution.
..

Solution:
Create resources for customer service reps and consumers to use when solving common problems.
Consider implementing a knowledge base to boost the self-services you provide. Consumers can find answers on their own and can resolve their issues a lot faster than contacting customer service. This saves a lot of time as you can send customers a knowledge-based article instead of explaining the solution individually. Helping you to scale your customer service solutions.
..Challenge 6:
Supporting customers 24/7.
Support your customers when, how and where they need it most.
Providing a range of customer service solutions is a great way to ensure your customers have the best experience with your brand. The challenge is to implement a way for customers to receive support 24/7. Businesses often use a combination of self-service and customer support options to achieve well-rounded customer service.
Customers will avoid human interaction if you provide them with faster alternatives for solving common customer problems. Enabling customers to resolve issues without the need for human interaction can have a powerful impact on your internal processes and customer experience.
If you accurately fulfil the needs of your customers using the right self-help methods and you will be able to provide support 24/7.
..

Solution:
Implement tools to scale your customer service offerings
Chatbots are a great solution for providing customer support to your customers at all hours of the day. Automated responses can be set to guide consumers to solutions and knowledge-base pages. Chatbots can lead customers to service staff when required. Chatbots are designed to provide additional services to those who need fast solutions and they can be valuable to any scaling business.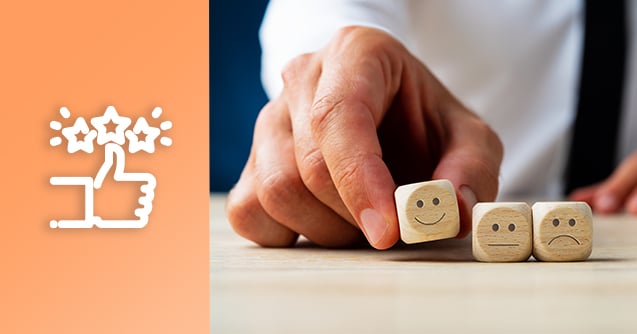 ..Challenge 7:.
Implementing proactive customer service management at scale.
Being proactive in offering customer support solutions can help boost customer satisfaction rates and maintain customer retention. Increasing customer retention rates by just 5% can increase profits between 25% and 95%.
Proactive customer service is to consistently improve your customer's experience and solve problems for your customers before they feel the need to ask for help.
This helps build loyalty and trust, showing consumers that you will go above and beyond for them every step of the way. Customers are much more likely to make repeat purchases if they trust your brand to deliver a delightful experience and supportive customer service.
A common challenge is finding ways to implement proactive customer service management at scale.
Proactive management tools:
Set automated reminders to manage routine maintenance

Chatbots

surveys

Knowledge base

Suggested (products or services tailored to suit your customers)

Newsletters

Loyalty programs
..

Solution:
Having a balance between automation and manual task
management is key to creating a powerful customer support strategy.

Automation is great for supporting scalability and being proactive. Relying heavily on the completion of manual tasks can be draining, time-consuming and inefficient. It can ultimately cost you revenue loss or waste profitability. Using automation to enhance your productivity and relieve time-consuming manual tasks allows you to focus on things that truly matter - your customers.
..Challenge 8:

.
Managing personalised experiences.
Personalised experiences are much preferred by customers.
71% of customers become frustrated if their shopping experience is impersonal and 44% are more likely to become repeat buyers after they have a personalised experience.
Creating personalised experiences for your customers plays a big role in building a loyal customer base. However, 74% of marketing professionals admit they are struggling to scale their personalised experiences.
Managing personalised experiences becomes challenging when your systems aren't aligned. Your systems, processes and teams need to be aligned to build a unified customer experience. If your departments are working in silos, it will be challenging to build personalised experiences for your customers.
Sharing customer data between departments is highly important when you are building a unique customer experience. This challenge becomes a lot easier when your systems automatically talk to each other and your teams work in unison.
Gathering data and data management is also challenging.
Choosing the right technology for your organisation can be a daunting process. Having the right tools in place to execute personalisation at scale is vital to your success. The right tech stack can help accelerate your growth, maximise efficiency and minimise risks. Consistently manage data and organise your systems to ensure you can make informed and accurate business decisions.
..

Solution:
Scale personalised experiences using tools to enhance your capabilities and assist in managing tasks.
Hubspot's Marketing Hub provides personalisation tools for content and marketing materials. Hubspot's Service Hub helps carry out personalisation through Omni-channel communication and supports a unified customer experience. Hubspot's platforms and CRM enable you to have accurate data across your systems and offer tools to support personalisation methods.
..Challenge 9:

.
Creating consistency across departments and improving customer service teams' performance.
80% of customers say they would rather do business with a competitor after more than one bad experience.
It's important to remain consistent across platforms and deliver delightful experiences to maintain customer satisfaction.
Customer support can rely heavily on customer service representatives to solve problems and communicate with customers on a daily basis. As phone calls are still a method of choice for a large number of customers (76%).
It's important to ensure your service calls are being handled in a way that matches your brand's reputation. It can be challenging to remain consistent across platforms. Setting customer service staff up with the right tools to manage customer requests and solve customer problems should be a top priority for any scaling business.
..

Solution:
Improve customer service offerings through monitoring calls,
playbooks and transcripts.
You should always be looking for ways to improve your customer service and tailor your offerings to suit the needs of your consumers. Call monitoring, playbooks and transcripts are a great way to manage the way you build relationships and gain insights into consumer behaviour.
..Challenge 10
Siloed Operations: Connecting service with other departments.
Siloed operations cause friction in the customer's experience.
When processes aren't unified and your internal teams are in siloes, customers have disjointed experiences that lead to frustration and dissatisfaction.
Siloed operations can affect (and is not limited to):
Productivity
Data integrity
Understanding your customer's needs
Communication and consistency in brand messaging
Team collaboration and morale
Revenue generation
Customer satisfaction
Customer experience
Scalability
This can be a common problem for businesses without a centralised database. It can cause a range of problems including a disjointed customer experience, no shared customer data, and inconsistent customer experiences.
Connect your business departments (Sales, Marketing, Operations and Service) to have a single data source. A unified customer understanding and consistency across systems is a great way to overcome many of the challenges businesses face daily.
It is challenging to change how businesses operate, but the rewards for doing so enable processes to run smoothly. Eliminate inefficient processes and gain deeper insights into your customers to accelerate growth.
Connecting your customer service departments to work in unison with the rest of your organisation will help build a seamless customer journey and improve your internal operations.
..

Solution:
Maintain consistent data across each of your platforms by integrating customer service software to your current tech stack.
Service Hub works seamlessly with other Hubspot platforms and Hubspot's CRM. If you already have another CRM you can still integrate this software into your current tech stack. Keeping your data consistent and reliable is crucial for creating accurate and personalised customer experiences.
..Overcoming the Challenges..
..of Customer Service
Businesses can grow revenue between
4% and 8% above their market
when they prioritise better customer
service experiences.
Successful customer service management can serve your team with a range of tailored insights that enhance your customer's experience. Implementing a holistic approach to your service and business strategies enables you to provide a seamless customer experience and frictionless processes for your team.