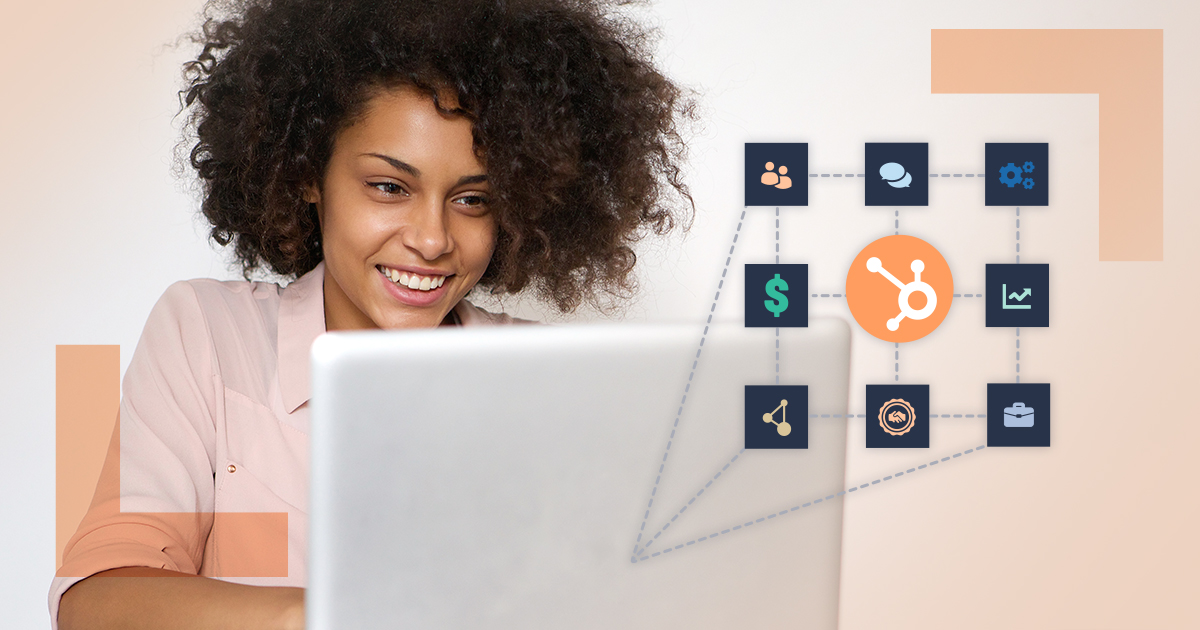 Service Hub Update: HubSpot's New and Improved Features for Professional and Enterprise Tiers
Insights from our leaders on Service Hub's new features and the latest updates with HubSpot's Service Hub for Professional and Enterprise tiers. (Ideal for those who want to unify their systems and advance their tech stack.)
HubSpot has been announced as the #1 CRM platform on G2's positioning map. And now, HubSpot's previously listed #1 Help desk software Service Hub, has been updated with new and improved services. HubSpot is being seen as an even stronger leader in the tech space and we are excited for what's to come.
Key Topics in this article:
(Click on the list to skip to a key area.)
HubSpot was announced as the #1 CRM Platform and
#2 Global Software Company for 2022 by G2

.
HubSpot's firm belief to put their customers at the heart of everything they do, lead them to be recognised as the #1 Best CRM software company for 2022. And, previously lead them to win G2's Best Software for Marketers Award in 2020 competing against 57,844 software companies. In such a short amount of time, HubSpot has been able to experience exponential growth. Having earned these awards through user recommendations, it is clear HubSpot's mission to put their customers first and tailor their services to suit their customer's needs is a huge success.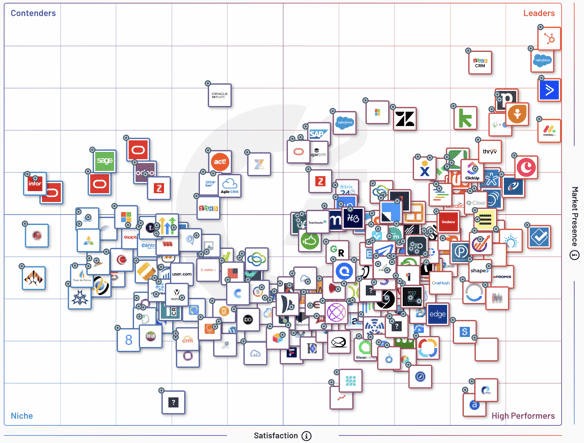 Service Hub previously listed as the #1 Help Desk Software by Software Reviews.
Now, updated with new and improved capabilities.
HubSpot's ability to monitor, engage, delight and empower its users has been a major factor in its success. Customer feedback is vital to improving products and services and it helps ensure customers are delighted at every stage of the customer journey. HubSpot has revamped Service Hub to be even more effective. Their new improvements will help businesses provide critical aspects of customer service and enable users with data to make accurate business decisions. Overall, leading to increased levels of customer satisfaction.
Software Reviews announced HubSpot's Service Hub to be the #1 Help desk software from their 2021 Customer Service Management Report, also based on endorsement from HubSpot's users.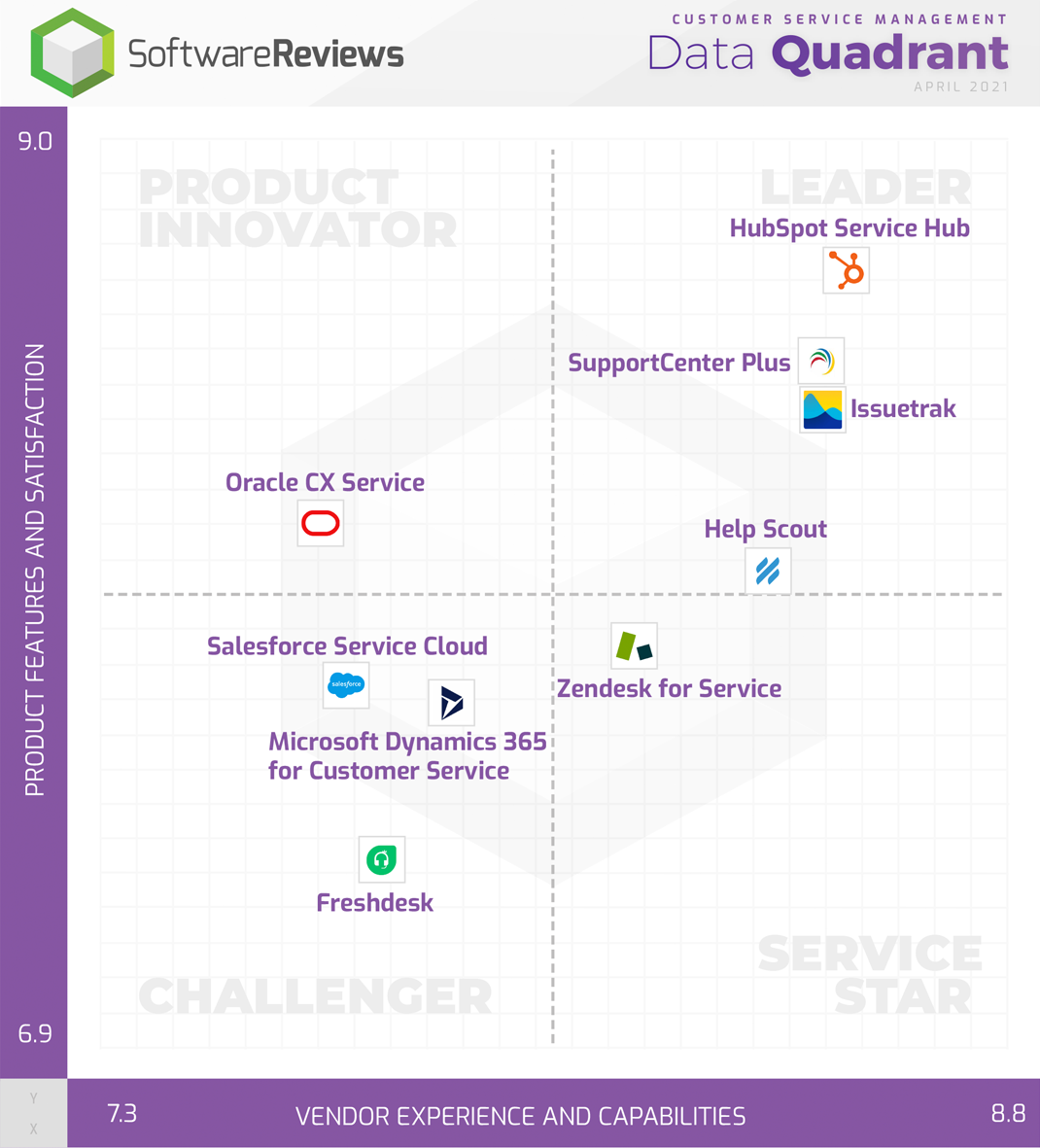 Source: Service Reviews
HubSpot's Service Hub is currently amongst the leading Help Desk Software companies by G2, compared very closely to Zendesk, Zoho Desk and Fresh Desk. With the new and improved additions to Service Hub, we predict customer satisfaction levels will increase exponentially, pushing Service Hub to outperform its competitors.
What's New in HubSpot's
Service Hub?
(Professional and Enterprise Tiers)
HubSpot has revamped the Service Hub platform with some exciting new features and updates to its current systems. Find out what services are now available to you and which ones we believe have the biggest benefits for professional and enterprise tiers.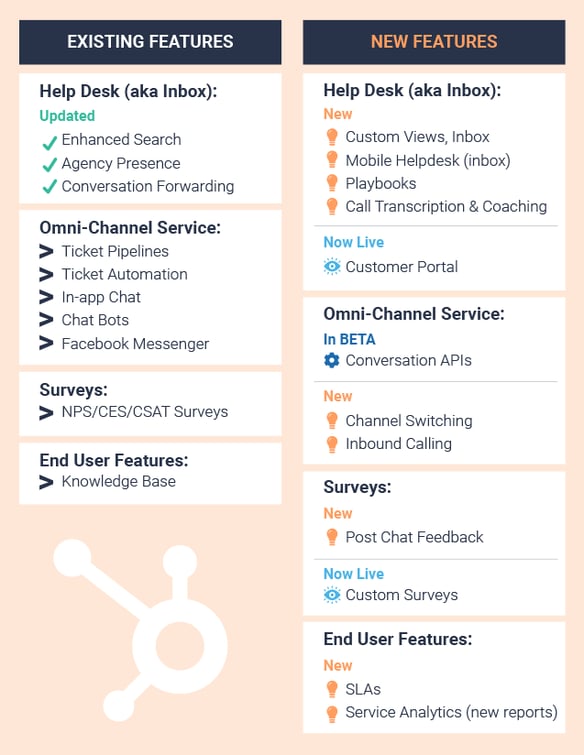 Service Hub's Help Desk
Tickets + Inbox = Help Desk
The Helpdesk is a unified system that helps you record, organise and track all of your customer's issues. Helping your customer support team manage customer data, gain insights and complete customer requests from one location. Service Hub's Help Desk is organised through tickets and an inbox. Tickets record customer issues and the inbox keeps track of conversations from live chat, team email, facebook messenger integrations, chatbots and form submissions.
Service Hub's Help Desk provides greater efficiency for creating personalised conversations, omni-channel communication and completing tasks. Eliminating common customer service issues such as support teams providing inconsistent help, or asking customers to repeat themselves. Many tasks can be automated within the Help Desk to improve efficiency and team workflow.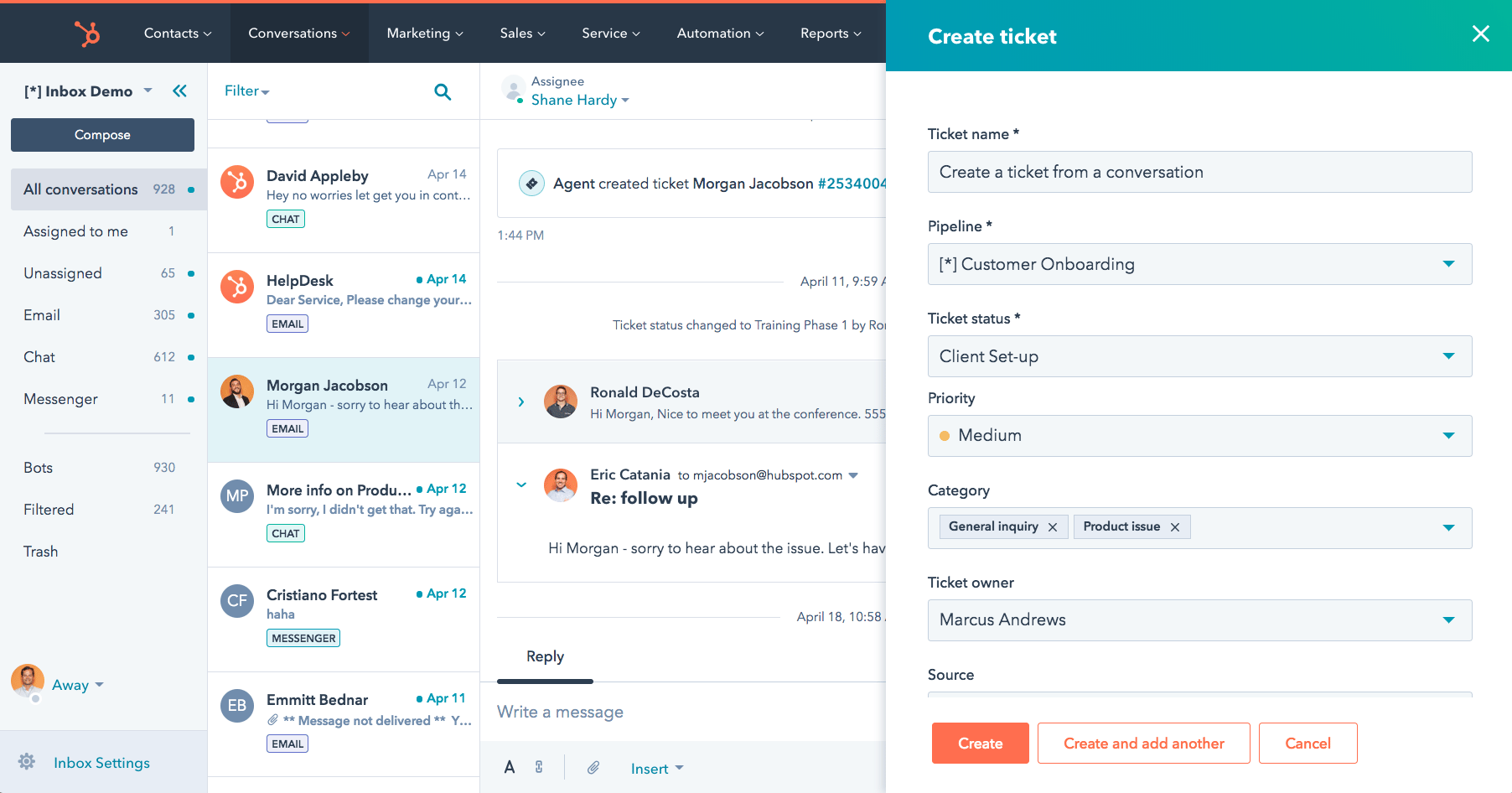 Create tickets directly from customer conversations and save them to your inbox. Helping you to track tasks and complete customer requests.
Source: HubSpot
Top New Features of Service Hub

The Highlights
HubSpot's Service Hub not only offers users a Help Desk but includes Omni-channel Service, unifies internal operations and supports automation tools.
The updates we are most excited about include the Customer Portal, Channel Switching, Service Level Agreements (SLAs) and Custom Surveys.
1.

Customer Portal

(Available for Professional and Enterprise)
Helping your team build and nurture the trust of your customers.
The Customer Portal is a single location where customers can view, update and reply to support tickets. Enabling your customers to have ownership over their service experience. This acts as a centralised platform where your customers can interact with your support and services teams. Within this Customer Portal, customers can access past and present solutions with ease. This portal is connected to your shared inbox so your representatives and service teams can easily access and respond to customer tickets and conversations.
The portal unifies teams to collaborate and solve issues or requests made by your customers. Connecting many additional platforms where customers can contact you including social media, email, live chat or text to one location. This speeds up productivity and efficiency in your internal operations and offers solutions to your customers as fast as possible.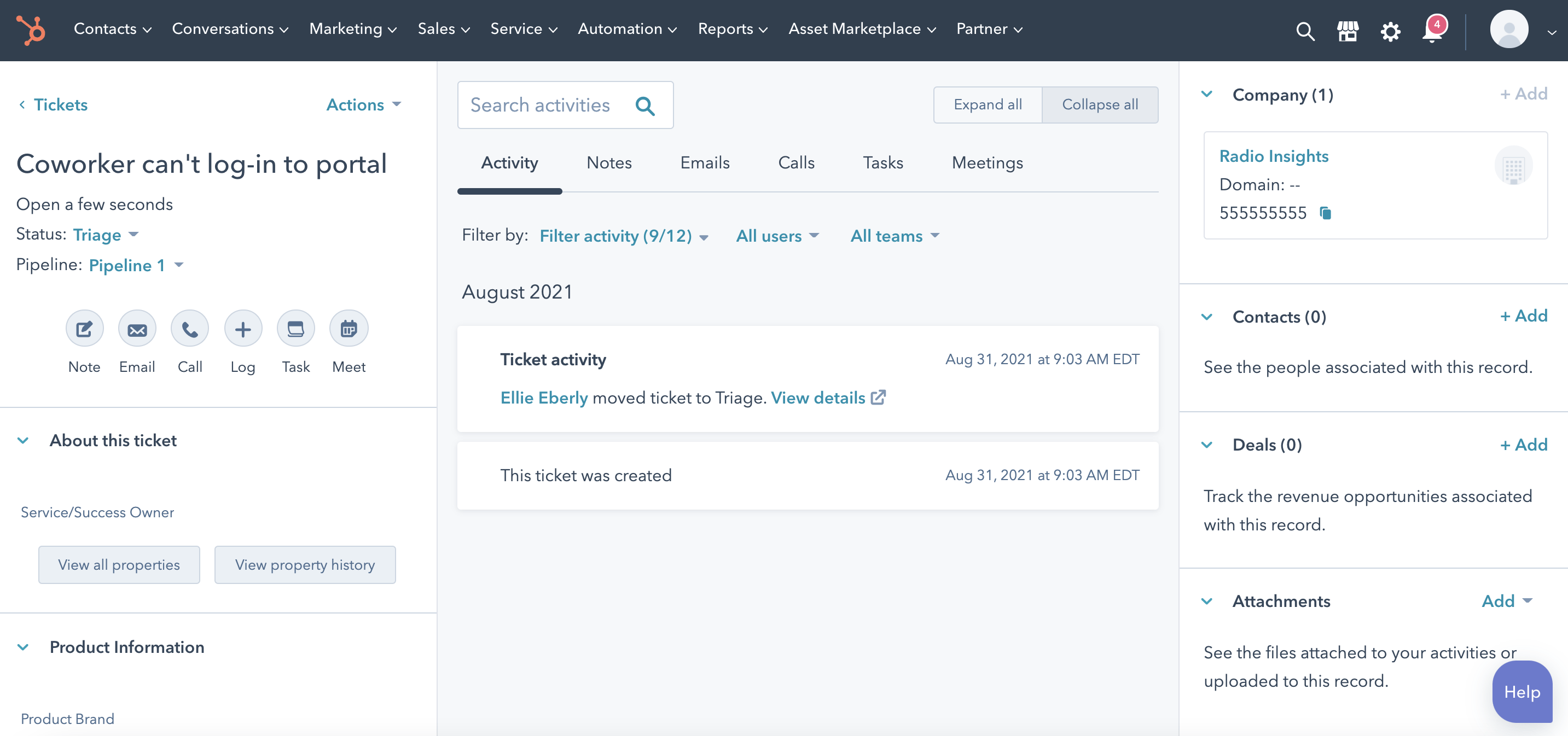 Add your own theme to the Customer Portal and personalise the experience. All of your data seamlessly integrates with the CRM. Enabling your team to have maximum efficiency and productivity with automation and workflows. Eliminate the issue of duplicated tasks and have a single source of truth to rely on.
Source: HubSpot
2.

Channel Switching
There is now an added function that helps remove friction for your service teams. As your team accumulates tickets, switching between multiple tools to communicate with your customers becomes disjointed and hard to manage. Now, having a simple channel switching function enables your team to communicate on a variety of platforms from one centralised location. Making the experience seamless for both your customers and service teams, and ensuring all of the required data is accessible through a single source of truth.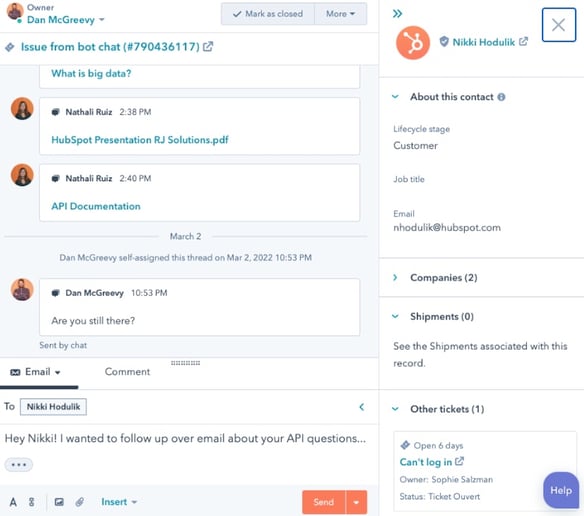 Track all conversations and keep your team informed at the right times with the right information. And, improve the efficiency and productivity of your team.
Source: HubSpot
3.

Service Level Agreements (SLAs)
SLAs are now shown as tickets in your inbox, helping to increase accountability internally. This new feature boosts the efficiency of SLAs by automating manual processes and having them easily accessible for your team to report on. It enables your team to easily monitor their progress and analyse their performance.
An additional feature of SLAs is to track the 'time to first reply' and 'time to close'. Enabling you to monitor the time it takes your team to complete a task and resolve customer issues with transparency and predictability.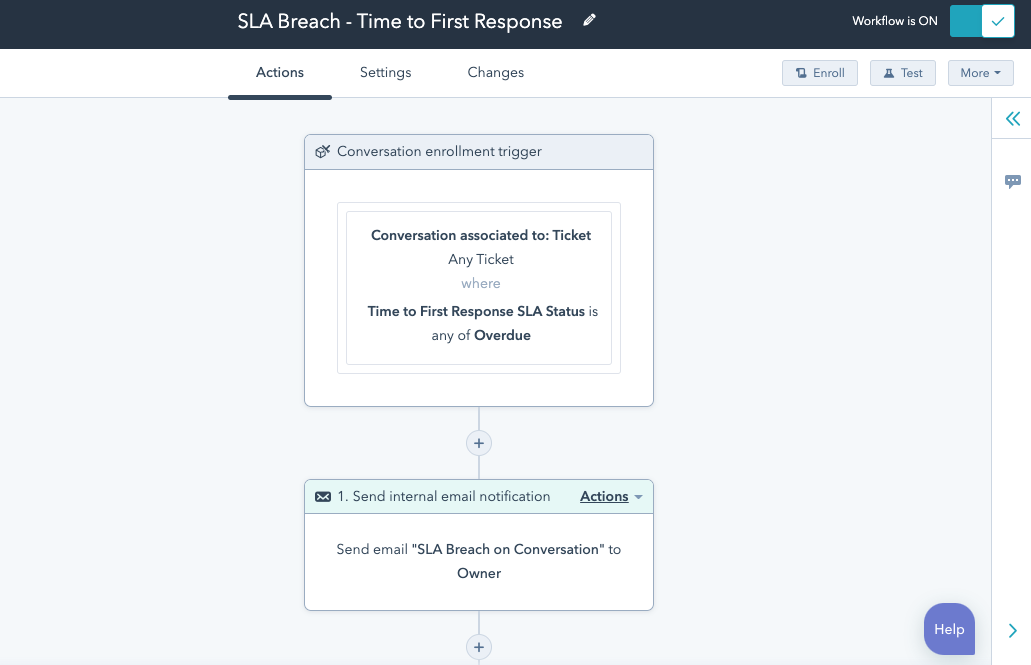 SLA metrics can be automated and your reporting can be customised. Enabling you to gather insights that help improve your service and quickly resolve issues through automation. Overall improving productivity and efficiency.
Source: HubSpot
4.

Custom Surveys
Capturing feedback is a vital step in managing positive customer relationships. Using surveys to gather feedback directly from your customers enables you to ask an unlimited amount of tailored questions, cover a diverse range of topics and make the responses easily shareable with your team for analysing insights and deepening your understanding of your customers.
A New Feature Includes Post-Chat Feedback.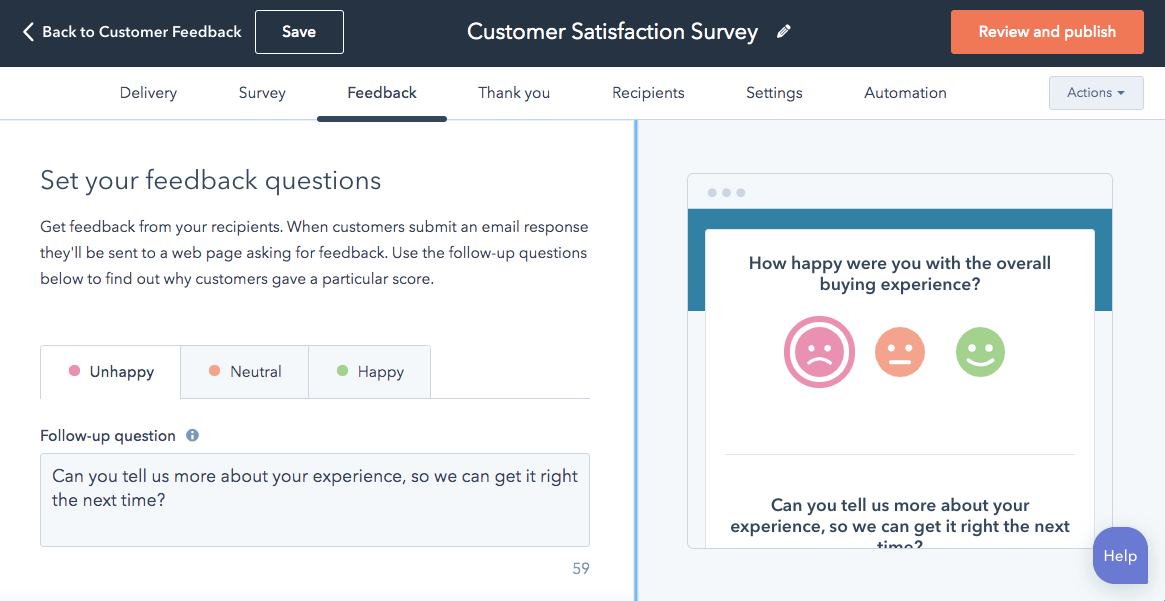 This feature enables you to immediately gather feedback after speaking with your customers through automated processes. Leaving you with valuable insights on how satisfied your customers are with their interactions with your team. This survey can be implemented in all chatbots and tailored to suit your needs. It collects individual responses enabling your insights to be more specific and unique, helping to deepen your understanding of your customer relationships.
Source: HubSpot
Insights from Our Leaders:



Luke Trewin
Luke Trewin is the Managing Director at Modern Visual, specialising in HubSpot and tech stack solutions. With the new updates of HubSpot's Service Hub, we gathered some insights into how these new features will benefit users by evaluating which features are the most useful to our team and clients.
" We found the customer portal to be one of the most useful tools because it allows full transparency between customers and reps. Enabling the team to manage support tickets and easily view their status. Customers are able to log in through their own dedicated space to view, open and reply to their support tickets.

We have found through our client's experiences that using email and excel to resolve customer enquires becomes difficult for reps to manage once the volume of their customer requests grows. As a result, their customers have long response times and are often left waiting for resolutions. This leaves our clients to have disappointed customers and friction-filled processes. The customer portal helps resolve these issues with the customers being included in the solution process and reps being able to clearly see and manage their ticket status. Which is all from one location and is aligned with the rest of the business.
Utilising automation on top of this system to further benefit the client's experience helps maximise efficiency. An example of this would be setting up an automated task reminder for reps to follow up with their customers in line with their Service Level Agreements. This could be in the form of receiving an email notification or a task reminder that informs you when a customer has responded to your support ticket. This notification can also guide you on what action you need to take next, with a specified timeframe. This maximises your teams ability to streamline manual processes and speed up the time it takes to resolve issues. "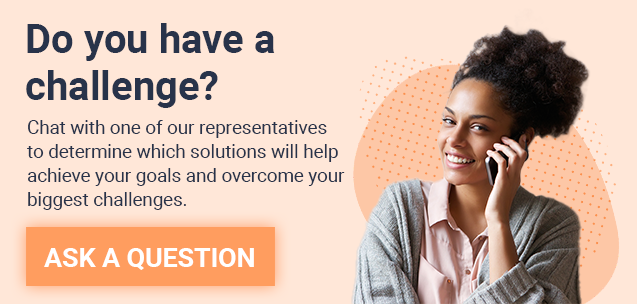 How to Deepen Customer Relationships and Drive Team Efficiency with HubSpot's New Service Hub.
Service Hub provides the tools you need to strengthen your customer relationships and improve team efficiency. Using a unified system with insights from a reliable data source empowers your team to make informed business decisions. Customer feedback plays a vital role in your ability to understand your customers and deepen your relationships. To build trust, customer feedback must not only be considered but implemented. Show your customers you understand their needs and are willing to solve any problems they encounter. Offering solutions that reflect your customer's needs in as few steps as possible will help drive team efficiency and boost customer satisfaction.
Service Hub and Sales Hub are a perfect match ❤️

HubSpot is a tool that is adapting, evolving and improving operations for businesses of all sizes. HubSpot is growing to be the best-unified platform for Sales, Marketing, Service and Operations at an extremely fast pace.
Combining Sales Hub and Service Hub builds a unified customer experience and helps your team deliver exceptional support throughout their entire customer lifecycle. Using insights from multiple departments and removing siloes in your operations enables you to understand your customers more clearly and deliver solutions that fulfil your customer's biggest needs. By utilising both of these tools, your team can provide high levels of customer service whilst keeping your products and services top of mind.
If you are familiar with Sales Hub and are already using this platform, Service Hub will enable you to grow your business with a customer-first approach. Helping you tie up any loose ends and solidify your strategies with customer-focused data.
How Sales Hub and Service Hub increase retention rates and renewals:
Service Hub provides the tools your team needs to gain deeper insights on how to better serve your customers, improve efficiency in your internal operations and connect the sales, marketing and service departments to have a more unified approach. Many of the new Service Hub features enable cross-functional benefits that amplify your teams to work together. Providing accurate data, documentation and communication tools that help strengthen customer relationships. This reduces the number of unresolved issues, the need for customers to repeat themselves and the need to resolve the same issue multiple times. Eliminating siloed departments in your organisation removes the disjointed experience for your customers, making customer satisfaction levels higher and resulting in increased retention rates and renewals.
Combining the new Service Hub features with Marketing Hub and Sales Hub will enable seamless experiences for both your team and customers. If you already use Sales Hub, adding Service Hub to your CRM will deepen your understanding of your customer's needs and make your team more efficient in providing solutions that your customers want and need most.