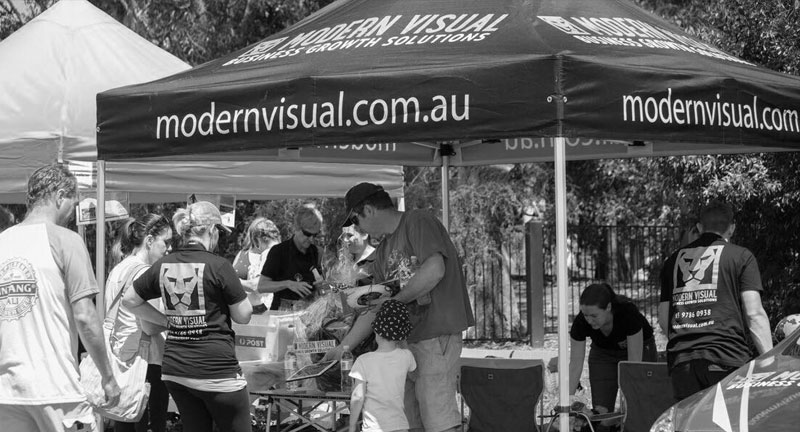 Our Year in Review
It's that time of year again where we all end up in a mad rush before the Christmas period, and fortunately some of us have some much deserved time off. Others may in fact be about to enter their busy period and are ready to go full steam ahead, if they aren't already.
2017 was a huge success for Modern Visual. In the past 12 months, we have tripled our customer base and introduced new team members into the fold. With every great business comes a lot of growth and learning, and internally we have definitely had some small pains that have allowed us to come out the other end with fantastic processes.
A Few Things We have Learned
Our clients & customers are extremely busy - all the time!
There is no set or expected outcome for any digital marketing activities. Every business is unique.
Our new branding introduced at the start of the year is kick ass. The feedback has been amazing.
We have changed a lot of businesses for the better across the board (revenue, awareness & efficiency)
Our internet in the office is absolutely terrible. Luckily we have fibre coming in January 2018!
Success Stories from 2017
1. One of our clients approached Modern Visual with the initial discussion of a website re design. After learning more about the organisation and its current pains, we proposed for a strategic approach and ran a Modern Visual Strategy Workshop. This allowed the organisation to learn more about their customers and prioritise goals in a strategic order. We were then able to formalise their branding, build a new website, first of its kind in Australia online enrolment system and internal intranet for the organisations staff. After completing the work and implementing the new systems, the changes within the business were immediate. Feedback from the customers and staff was outstanding. We were able to make a positive change in this business using our knowledge and technology. The biggest win for us was the fact that this had a huge impact on the community as this organisation caters to thousands of parents and children.
2. Another client of ours owns a franchise business across Australia and New Zealand. After re developing their entire online presence and creating a unique sales funnel, we were able to achieve on average a 12,000% ROI. The strategic partnership is on-going with new goals and locations being targeted on a monthly basis.
3. Another great win from 2017 was the launch of an online fitness program for one of our predominant clients. After a career in AFL, our client needed something after footy. We created and are marketing a subscription based online fitness program featuring online video content, recipe guides, social media support plus more. This was one of our larger projects for the year and the results are nothing short of amazing.
We have had so many other wins this year for our clients and the online space is proving time and time again that it's not only popular but a great way to grow your business. The downfall is that patience is definitely required and those that take our advice and stick with us will have the results they desire. Rome wasn't built in a day and neither was a business online. It takes time to build trust with your online followers and your brand is your most valuable asset.
Whats in Store for 2018?
We are extremely excited to open our doors again in 2018. We have learned so much as a business this year and how we can bring more and more value to our clients. We have started laying the foundation for next year already and the impact for customers will be noticed almost immediately when we commence business in January. With our rapid growth this year, we have had to introduce razor sharp systems and procedures to ensure that every single client that deals with us receives a high standard of service and work that is expected by not only you but myself as the founder. A lot of businesses can lose their spirit or heart as they grow. I think it is important that this maintains from the foundations of when a business is born as it is generally the passion of the founder that provides a fantastic experience.
Christmas Trading Hours
We will be closing our doors at 3pm on Friday the 22nd of December 2017 and re-opening on Monday the 8th of January 2018 at 9am.
If you require emergency assistance while we are closed, you can call our office on (03) 9786 0938 and your call will be diverted to a team member.
I hope you all have a fantastic Christmas break and we look forward to working with you to grow your business in 2018. Please get in touch with us if you need to run any ideas you may have by us.
Regards
Luke Trewin
Founder & Director
[/fusion_text][/fusion_builder_column][/fusion_builder_row][/fusion_builder_container]