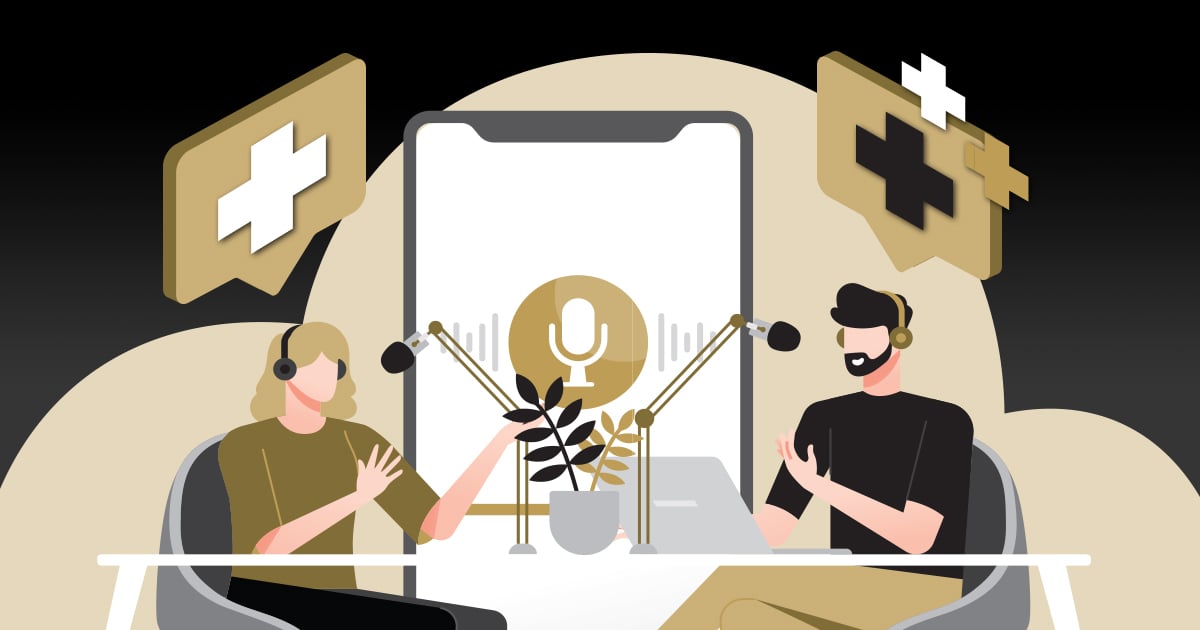 Podcasts. Do They Really Generate Leads In The Healthcare Industry?
Podcasts have grown in popularity in recent years largely due to their increased accessibility and easy to consume content. The number of podcast listeners has grown exponentially over the last ten years. For instance, Apple had 7 billion podcast downloads in 2014, but the number grew to over 50 billion in 2018. Healthcare professionals and marketers have recognized their potential and are using podcasts in their marketing strategies.

Podcasts Are popular
Part of the appeal of podcasts is due to their ability to present technical information in an engaging manner. They are also convenient to listen to because people can listen to them while doing other things. A 2019 study showed that 75% of the healthcare professionals participating in the survey listened to podcasts on their smartphones, 44% used computers while 20% listened on a tablet. Further, 36% of the respondents had listened to a podcast in the past month. This implies that healthcare professionals listen to podcasts at work and away from work all the time.
Podcasts Are Highly Accessible
Podcasts are highly accessible, making them a valuable resource for healthcare workers seeking the most recent developments in healthcare research and evidence-based care. This makes them highly attractive to healthcare professionals and workers looking for industry-specific information. For instance, leading medical journals such as Plastic and Reconstructive Surgery now produce podcasts to accompany their publications.
Podcasts Are More Flexible Than Radio
Podcasts have several advantages over radio, not least because the content is recorded, and consumers can listen at any time. Unlike radio, podcasts do not impose a time constraint on the speakers. Neither do they limit the type of content you can include. This flexibility makes it easy for marketers to be creative with their lead generation strategies by integrating calls to action within the content.
An Educational Resource
For marketers in the healthcare industry, podcasts are an educational resource that they use to reach out to professionals in different specialties. Podcasts offer healthcare professionals a platform on which they can discuss various topics, whether it is the latest advances surgery or new approaches to personalized care. The range of subjects you can discuss is very broad. If you produce a series of podcasts, listeners can find the subject that interests them by browsing through the titles on the playlist.
Podcasts Offer Expert Opinion
Most podcasts offer expert opinion on different subjects. Podcast producers are either experts in a particular field or invite experts to their shows to provide insights on different topics. These interviews are a great resource for healthcare professionals seeking informed opinions and perspectives on different subjects. Content that is highly authentic is likely to convert more than shallow opinions.
Podcasts Are an Engagement Tool
Podcasts can help physicians connect and communicate with patients on different subjects. They allow practitioners to broach subjects in a way that is not possible at a healthcare facility. For instance, physicians can use podcasts to talk extensively about a chronic health condition, including details about personal experiences with different patients. The doctor may analyze different manifestations of the condition and the management used for each type. This positions them as experts who can be trusted by patients.
Increased Visibility
For healthcare practitioners, podcasting increases visibility among professionals and the general public. The increased visibility can lead to new consultancy opportunities or sales of healthcare products. Podcasting can also provide new opportunities for partnerships with players from different segments of the healthcare industry.
Content Strategies
Before you start podcasting, it is important that you identify your target audience so that you can speak to them in a voice that they can connect with. Most healthcare podcasts target the two groups of healthcare professionals and patients. Make sure that the podcast name and content has keywords that are relevant to the target audience.
For podcasts targeting professionals, the content can include continuing medical education, medical practice updates such as implications of new regulations and policies, and novel technologies. The organizers should consider hosting different specialists to provide listeners with refreshing insights.
Podcasts targeting patients should provide content that empowers listeners, such as basic health information and the characteristics of various illnesses. The hosts can position themselves as thought leaders in healthcare by sharing knowledge, experience, and perspectives about how the industry works and areas that need improvement. The aim should be to encourage them to see a doctor for their problem or visit a specialist if their condition requires specialized treatment.
Popular Healthcare Podcasts to Listen to:
Dr Marketing Tips Podcast
Dr Marketing Tips Podcast provides healthcare practitioners with the knowledge they need to market their practice better, irrespective of their marketing skill level. The hosts invite medical practitioners and healthcare marketers to discuss various aspects of healthcare marketing, such as online reputation management, improving patient satisfaction, and providing patient testimonials.
Healthcare Success
Healthcare Success is a fully-fledged healthcare marketing and advertising agency committed to helping healthcare providers strengthen their brands, attract new clients, and maximize their reach. Their content targets medical practices, hospitals, dentists, and pharmaceuticals.
Online Marketing for Doctors Podcast
This is the leading search marketing agency for the healthcare industry and doctors in Australia. They specialize in digital marketing and connect healthcare organizations with prospective clients in their community.
The 10-Minute Healthcare Marketing Podcast
The 10-Minute Healthcare Marketing Podcast offers healthcare practices advice on how to grow their businesses. They guide practitioners on how to generate better leads and boost their online reputation. It is a great resource for providers who want to learn what it takes to be an industry leader.
Core Exchange: A Healthcare Marketing Podcast
This podcast guides healthcare marketers on how to handle internal and external operational challenges. It provides a series of interviews with leading marketers who understand what it takes to thrive in the current healthcare market.
Rush and Randy Podcast
Rush and Randy Podcast is hosted by an ENT specialist who also loves healthcare marketing and branding. The content includes different aspects of internet marketing as well as branding strategies for healthcare providers and practitioners.
Modern Visual provides business consulting services to clients in Australia. Our services range from inbound marketing to Hubspot onboarding and brand strategy and design. Listen to the MVP Modern Visual Podcast via Apple Podcasts and Spotify