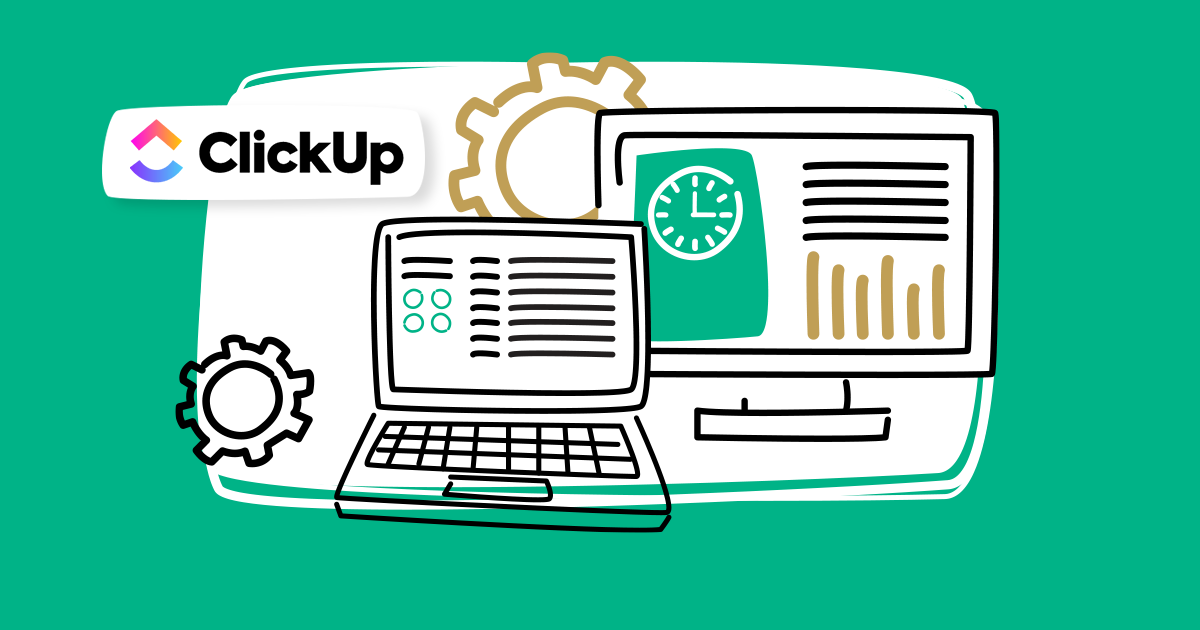 From chaos to order: How ClickUp can revolutionise your workday
Are you tired of feeling like your workday is a never-ending cycle of chaos and disorganisation? Do you struggle to stay on top of your tasks and projects and feel like you're constantly drowning in a sea of to-dos and deadlines? If so, you're not alone. Many professionals struggle to manage their workload effectively, leading to stress, burnout and a lack of productivity.
Boost Productivity with ClickUp
Productivity plays a critical role in maintaining efficiency and will help you optimise your business potential. We've recently partnered with ClickUp to increase productivity and enhance business performance.
Finding the right solution will always depend on your unique needs and you must consider what your business requires when you are choosing to implement new technological solutions. We'll help you determine whether ClickUp is right for you and your team.

Get more done in less time.
ClickUp is a powerful project and task management tool that can revolutionise the way you work. With its suite of features designed to streamline workflows, enhance organisation and boost efficiency, ClickUp can help you move from chaos to order and help you take control of your workday.
One of the key benefits of ClickUp is its ability to keep all your tasks and projects in one place. With ClickUp, you can create tasks, assign them to team members, set deadlines and track progress, all from a single platform. This eliminates the need for multiple tools and platforms, reduces confusion and improves organisation.
Why is productivity important?
Being productive enables you to complete tasks faster and with greater accuracy, freeing up time for other activities. It helps you manage your time more effectively and reduces the risk of missing deadlines. By being more productive, you can increase your output and as a result, increase your revenue.

Increased productivity can enhance your reputation to be reliable, effective and efficient. With better time management, there are more opportunities for advancement. Increasing your productivity can open up new opportunities for your business and accelerate even your career growth.



7 ways to transform your team's efficiency and start getting things done.
1. Prioritisation
To be productive, ensure you prioritise each task and focus on the most important ones first. Be sure to evaluate the urgency of each task by assigning priority levels.


ClickUp helps you prioritise tasks with an easy to use priority flag, allowing you to set the priority to high, medium or low with just the click of a button. This will help you manage your 'to do list' without having to spend time maintaining which tasks should be done first, as ClickUp will automatically organise the tasks you list as important.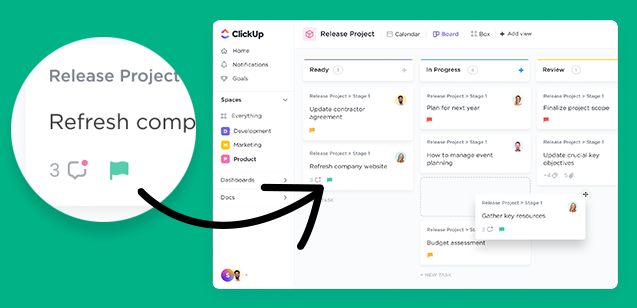 2. Time management
Time management techniques like time blocking, the pomodoro technique, single tasking, task batching, etc. can help to effectively manage your time.

ClickUp allows you to track the time being spent on each task, so you can then monitor your progress and focus on the task at hand while the timer is on. This is also effective in the revision process as you can see how long tasks take to complete and whether or not it could be done more efficiently.
3. Delegation
Delegating tasks to team members to maximise the use of available resources and minimising burnout can help increase productivity levels.

ClickUp allows you to set new tasks for your team and you can work on tasks or projects together. This helps with managing team projects and connects remote workers from any location.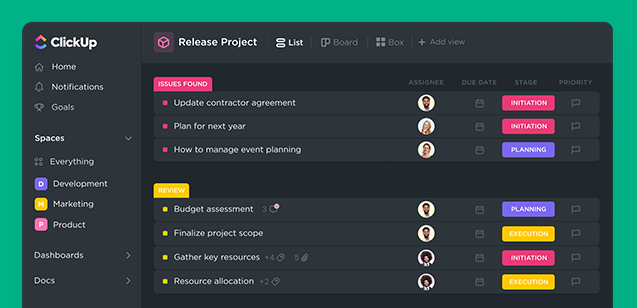 4. Communication
Use clear and effective communication with team members and stakeholders to reduce the risks of failure in projects or simple misunderstandings. It's important to stay up to date on the latest progress and communicate regularly to ensure all parties are on the same page.

ClickUp enables effective communication by allowing you to comment on each task and monitor progress between team members. It allows you to tag team members, making it easy to keep track of conversations and notes.
5. Planning
Create a detailed project plan with specific, measurable and achievable goals, milestones and deadlines. Planning allows you to allocate resources more accurately and will help you identify potential roadblocks before they arise.

ClickUp helps create more streamlined workflows with clear visualisation on your projects. The gantt chart feature helps clearly represent timelines, goals, potential setbacks and aligns a variety of tasks to specific deadlines. This helps you stay on track and plan ahead.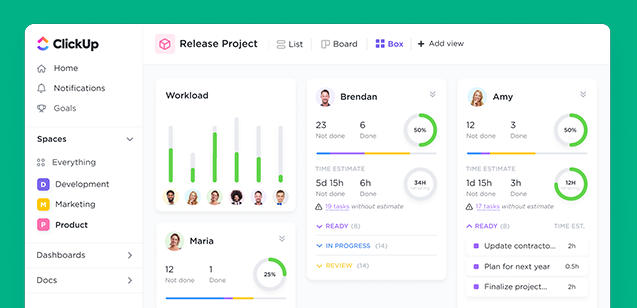 6. Integrations and aligning your data
ClickUp's ability to integrate with other tools and services makes it easier to connect your existing workflows and data, further streamlining your planning processes. It helps maintain accurate and reliable data across your tech stack, giving you a better understanding of how well your business is operating.
7. Personalisation and flexibility
ClickUp offers great flexibility in the way you choose to work. Whether you prefer a list view, a board view, or a calendar view, ClickUp can accommodate your preferred workflow. You can also customise your workspace to suit your needs, creating custom fields, tags and views to help you stay organised.
Who should use ClickUp?
ClickUp can be utilised by any type of role or industry due to its functionality and set up. Anyone who is looking for better productivity in their task and project management will find ClickUp useful. For example, ClickUp can be used by a diverse range from anyone in marketing, engineering, operations to developers (not exclusive to of course). Additionally, large, medium, small sized companies or freelancers can use ClickUp and it will be just as beneficial for all parties.

We are now a partner of ClickUp
We've recently become a partner of ClickUp, after implementing the platform into our own operations we saw the immediate impact it had to our level of efficiency.

We can help you determine whether ClickUp is the right fit for your business and help your team implement ClickUp following industry best practices. We want you to have the ability to do more in less time and allow you to focus on the tasks and goals that matter most.
To know how ClickUp will best work for you, book a free consultation with our leading BDM, Jeremy.